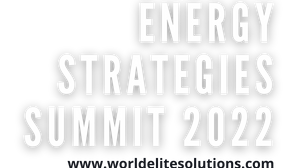 About the event
The Energy Strategies Summit - a knowledge and exchange platform bringing together some of the industry`s most brilliant minds to share what is new and next in Lebanon, was created in 2020 with the goal of preparing the energy sector for a new start.
This year's edition will be held during Climate Week NYC, between the 27th and 29st of September 2022, in a hybrid format, offering both physical and virtual meeting places for the energy industry stakeholders. The Energy Strategies Summit is an inspiring mix of several analytic panel discussions, interactive workshops, in-person networking, and an interactive b2b matchmaking platform, where local, regional and international companies can highlight their products, services, and projects and connect with each other.
The energy priorities on both energy efficiency and renewable energy open new opportunities in the industry to diversify the sector`s workforce. The rise of a wide spectrum of new jobs in response to the greening of energy offers a timely window of opportunity to fundamentally change the current bias in the sector. Women must come out of the shadows in the energy sector, which is why the event integrates a first day dedicated to Women in Energy and Networking with the objectives to offer solutions to advance women`s education, leadership, and employability in the energy sector and discover new opportunities, increase awareness, and meet energy sector stakeholders.
The second-day summit program will be structured into 4 thematic panel discussions covering strategies for integration, strategies for investments, strategies for transformation, and strategies for cooperation, addressing the darkest topics in the Lebanese and regional energy industry this year in sectors like gas, renewables, fair competition, legislation, and financial instruments and the last day will be dedicated to workshops.
Why should you sponsor?
The energy crisis that Lebanon is passing through is a great opportunity for international companies to expand their businesses here!
Even if the economic situation has affected most of the sectors, the number of alternative energy projects that are being installed in the country is growing. Also, as the event has an international audience for its virtual part of the event, it will bring extra exposure to your brand in multiple countries.
Raluca Buna
World Elite Solutions is an independent media project including a broad range of media tools: print and online editions of The Exclusive, mobile applications, web platform, marketing and branding, strategic consulting services, media distribution, and event services.
OUR MISSION is to create experience events that improve people's lives through access to worldwide information, opportunity, and sustainable development now and for future generations.
OUR VISION is to inspire people to create a better world.
OUR VALUES are:
QUALITY: We value people as business partners. We provide the highest quality of service to them and we treat their goals and objectives as our own. We're increasing their competitive advantage by consistently exceeding expectations.
INTEGRITY: We insist on open, honest, and fair relationships with each other, our customers, and business partners. This is our firm standard for business partnerships.
CREATIVITY AND GROWTH: We will continuously strive to improve WES experiences and do the right thing to support our clients. We will lead by example and set our standards high for others to follow.
TEAMWORK: We believe teamwork is a necessary condition in delivering exceptional results to our clients and their customers. We are committed to encouraging and supporting the professional development of each person, as they progress through their career.
ENTREPRENEURIAL SPIRIT: We will continuously strive to be the best in what we do. We want to earn and securely maintain our leadership position as a premier provider of business experiences.
Contact the Organizer
Contact the Organizer