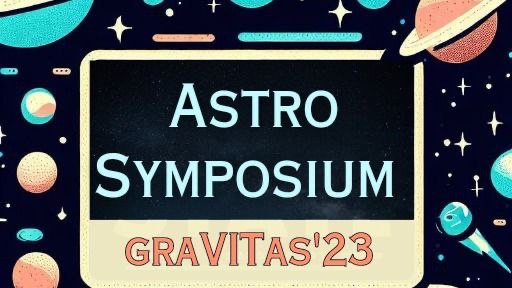 About the event
VIT Stellar's most anticipated event. Astro Symposium thrills and encourages the youth to learn exciting things about our universe. The event consists of workshops which will be graced by some of our great scientists from ISRO and renowned TEDx speakers. The Astrophysics conference gives an opportunity to the participants to interact with great people who have contributed in the domain of space and served the nation. Finally the participants will have fun learning more about the cosmo
We successfully conducted 3 events in june 2023 each of them unique in their own way.
1. Stellar Minds Quiz - An Interstellar Intellectual Showdown on Instagram
The Stellar Astronomy Club at VIT organized a thrilling event, "Stellar Minds Quiz", on 25th June, 2023 on the virtual platform of Instagram's story feature. Astronomy enthusiasts engaged in an interactive cosmic adventure, pitting their knowledge against diverse topics like celestial bodies, the solar system, galaxies, constellations, and space exploration. The quiz fostered camaraderie as participants competed with fervor, embracing the wonders of the universe. Under the club's astute curation, the event united space enthusiasts and left all attendees with an invigorated passion for unraveling the enigmatic cosmos. An enthralling experience that celebrated astronomical curiosity and intellect on the digital frontier

2. Cosmic Walk - A Celestial Journey into the Tapestry of Wonder
The Stellar Astronomy Club at VIT organized a mesmerizing event, "Cosmic Walk", on 4th June, 2023 where attendees embarked on an enchanting journey under the night sky. The event celebrated the vast expanse of the cosmos, invoking dreams and igniting imagination. With twinkling stars as ancient storytellers, participants were reminded of their place in the grand cosmic symphony. The night sky, like a canvas of wonder, inspired a profound sense of awe and yearning to explore beyond earthly horizons. "Cosmic Walk" left attendees with a renewed appreciation for the mysteries and splendor of the universe.

3. Stellar Movie Night - The Galactic Feature
The Stellar Astronomy Club at VIT hosted a captivating movie screening event, "Stellar Movie Night", on 10th June, 2023 featuring the thought-provoking masterpiece "Coherence." Under the starlit night, attendees were transported into the enigmatic cosmos, exploring parallel universes and their impact on human dynamics. The visually stunning film, coupled with the Stellar Astronomy Club's hospitality, left the audience mesmerized and ignited a profound sense of wonder about the vast mysteries of the unive
Why should you sponsor?
Established in 1984, VIT, Vellore, is one of the best and trusted engineering colleges in the country. VIT focuses on all-round development while exploring the latest advancements in science and technology. With state-of-the-art technology, experienced faculty members and a homely hostel, VIT provides an ideal learning platform for students. The institute is ISO 9001:2008 certified.
VIT offers a Bachelors' and a Masters program in engineering streams. It also offers students the option to carry out full-time or part-time research.
VIT's Gravitas is one of the biggest technical fest that happens in india and our event is one the best among the hundreds of events that happens here . Sponsering our event will help you in many ways like there are lakhs of student here they will all know and be aware of your company . The event will help sponsors promote their brands to a well-curated audience, collect leads, land sales, and gain a loyal following

Based on the funding we receive from our sponsors we have divided it into the following categories:
1. Bronze – (Rs 2k -5k)
2. Silver – (Rs 5k -15k)
3. Gold – (Rs 15k -35k).
4. Platinum – (Rs 35k -50k). 5. Diamond – (Rs 50k -70k)

Satyam Singh
Stellar has been responsible for a plethora of workshops and symposiums which have helped thousands of students obtain technical knowledge and gain exposure to the latest industry-grade technology.
we are responsible for giving the knowledge of cosmo and cultivating technical culture in our collage
Contact the Organizer
Contact the Organizer