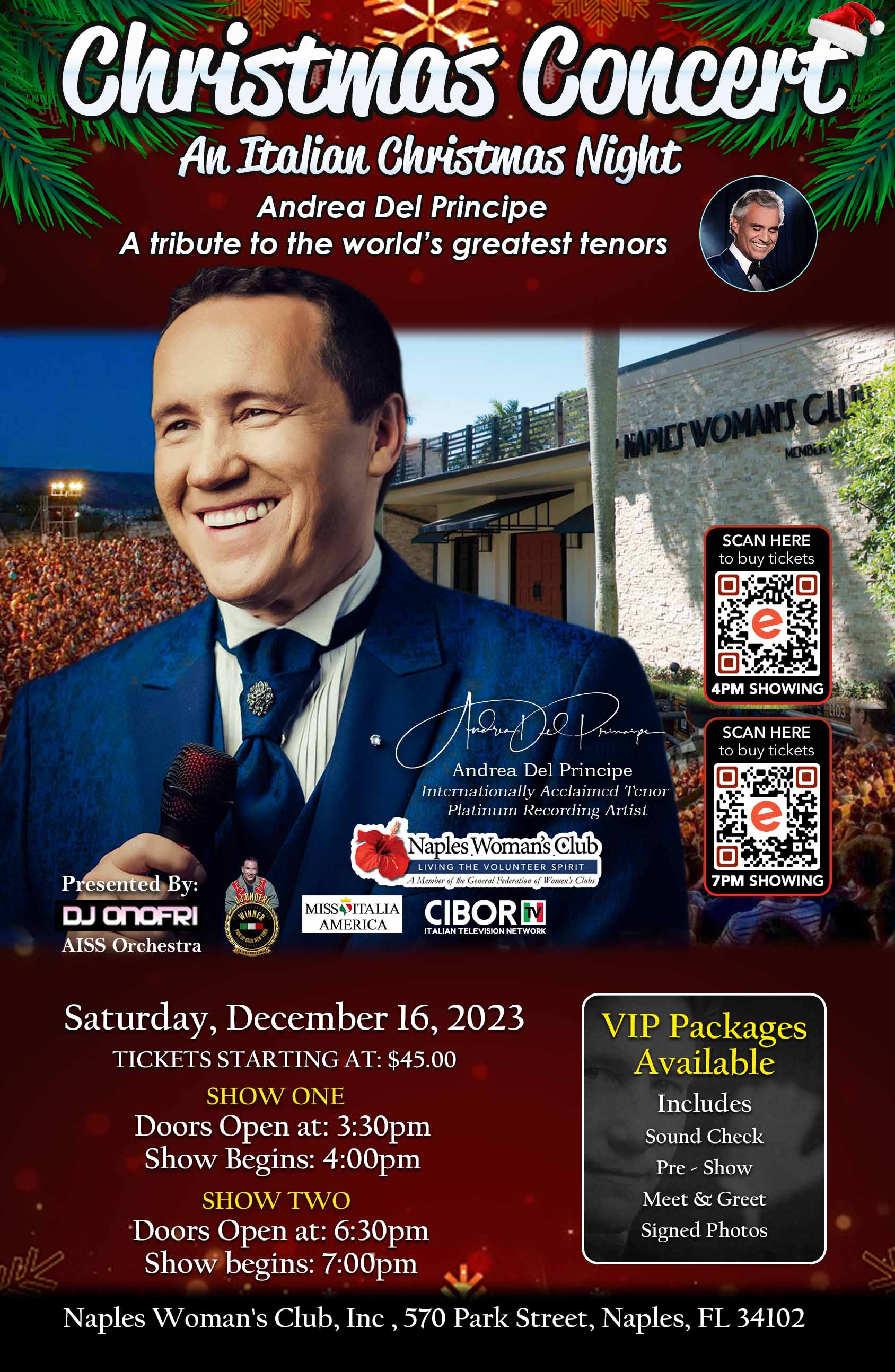 About the event
A Live Concert by the internationally acclaimed, Platinum Recording Tenor, Andrea Del Principe
You probably seen Andrea sing at Car On Fifth, The Event organized by the Ferrari Club of Naples.
In this concert you will hear the best Italian and international Christmas songs performed with a voice that speaks to your heart.
This concert is a tribute to Andrea Bocelli and all the Great Italian Tenors of the world, from Enrico Caruso to Luciano Pavarotti.
Fall in love with timeless melodies and Andrea's incredible voice.
Enjoy a Holyday atmosphere and see a concert that you will never Forget!
After The Success of the 2022 Tour, this year you will listen to a new show including some Queen Songs like Radio Gaga and Bohemian Rhapsody, giving a Classy Rock touch.
Andrea performed in Asia, Dubai, Australia and Europe where newspapers dub him the voice of Passion.
The concert will include songs such as: 'Silent Night', 'Oh Holy night', 'Santa Claus Is Coming to Town' followed by: Sinatra Classics and powerful opera arias Such 'La Donna e' Mobile' and the amazing 'Nessun Dorma'.
Enjoy Andrea in this one-night only performance with your family and friends.
Directly From Italy, One night only !
Why should you sponsor?
The advertisement is clothed with value while it allows audience to enjoy a show that makes one dream, heart beat or shed a tear. The sponsor becomes part of the show. The audience becomes passionate about the show and live a dream that the sponsor made possible which they will be grateful for. They will prefer the sponsor products among the others for years.

Andrea Del Principe
"God gave me the opportunity to share the passion for music and the joy of singing with so many people. I am humbly grateful to the Lord and to the amazing people met in this journey"
Andrea Del Principe is an Itnernationally acclaimed Platinum Recording Tenor. He performed in Asia, Dubai, Australia and Europe. In Italy (Padova) he had his largest concert with an audience of 120,000 - visible on youtube
Contact the Organizer
Contact the Organizer