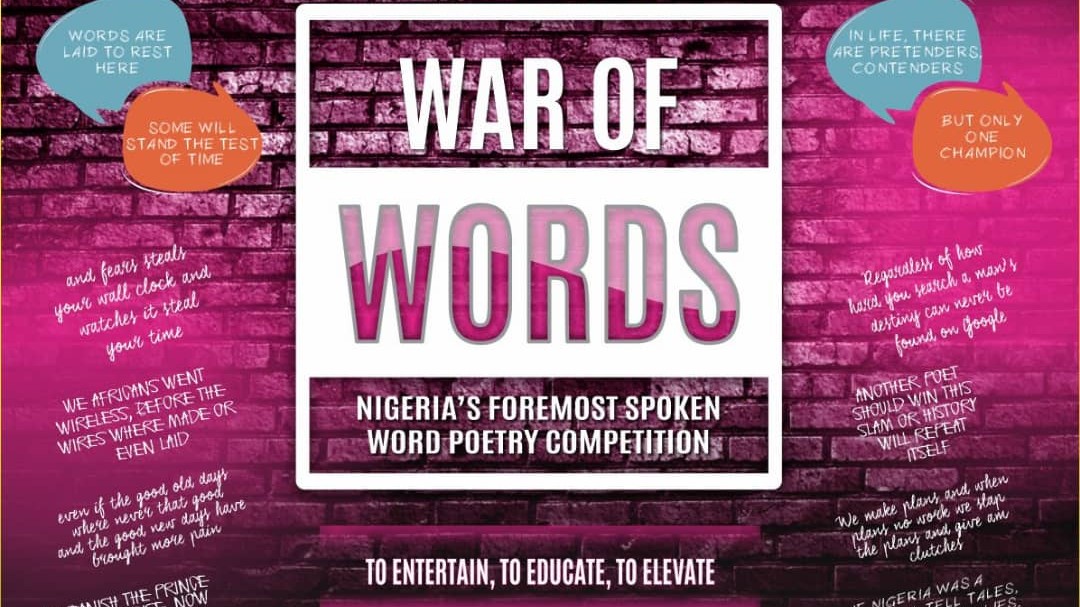 About the event
War of Words (WOW) is the biggest Spoken Word Poetry Competition in Nigeria. It runs like a Reality TV show and has served as the pedestal for several Spoken Word acts to officially launch their careers. Many acts have graduated straight into the A-List by merely participating in this unique Slam Poetry competition.
Notable amongst them are Titilayo Mabogunje, (who as) a 15-year old prodigy, won the maiden episode of the WOW in 2013. She currently studies at the prestigious African Leadership Academy, South Africa. Her admission was predicated on her exploits at WOW as the school requirements entails the display of some form of skill/talent aside from academic excellence.
Another alumnus of WOW season 5 (2015), Ibukun Ajagbe attracted the attention of the Swiss Malaria Group and was invited to perform at the World Malaria Day in April 2016 in Switzerland.
Others are Chika Jones (Season 2 winner), Grracinao Enwerem (Season 3 winner), Paul Word (Season 4 winner), Wayne Samuel (winner of Season 6 and 7) and Fragile Dogubo (winner Season 8).
Why should you sponsor?
›Increased brand visibility and equity using interactive content.
›Increased Social Media interaction.
›Position your brand positively in the minds of new and existing customers.
›Reach new customers that your competitors are not reaching.
›Increased sales of your products and services
›Portrays you as a socially responsible organization.

Olumide Holloway
My name is Olumide Holloway, but better known as "Olulu, the King not from Zulu."
I am a POET-prenuer, Writer, Spoken Word Artist, Content Provider and Concept Developer.
I am a major organiser and promoter of WORD UP (a foremost Spoken Word Poetry event in Nigeria), and War Of Words (the biggest slam poetry competition in Nigeria, that discovers, nurtures and promotes new and emerging poets in Nigeria).
My core purpose in life is to build capacity in people using Spoken Word Poetry as a tool and as a medium to address, (as well as, solve) issues that affect the society such as education, employment, entrepreneurship, empowerment, expression, entertainment, emotional therapy and emotional intelligence.
I believe everyone should do what they love, and love what they do. That way we can all be loving life and living in love, and get paid for building businesses around our passion.
Contact the Organizer
Contact the Organizer