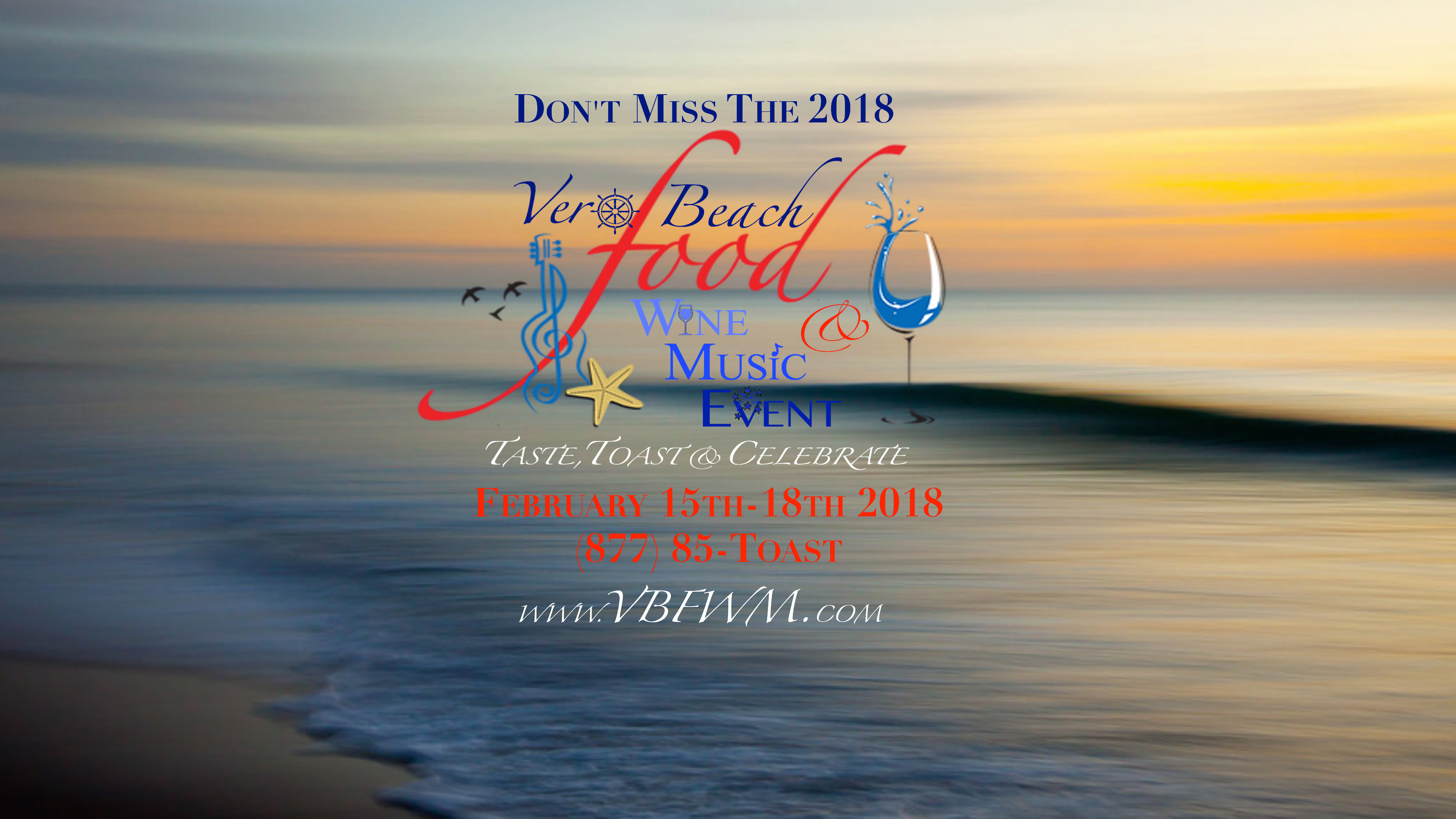 About the event
The Vero Beach Food Wine & Music – Taking place February 16th-18th 2018
This is a yearly event that gives back to the community by generating large guest attendance from throughout Florida and abroad.
While amortising the appearances of culinary personalities and celebrities. Conceived as an intimate gathering over a three day time frame benefiting not just one charity but six well deserving organizations. while bringing to light Vero Beach's position as a premier destination for a high end culinary, wine and music experience and reinforcing the appeal of being the Hamptons of South Florida with a charitable heart.
This in-turn gives VBFWM the opportunity to give back to our selected charities in the areas of the enevoiremcent, education, health, human services, animals in distress and children and family.
The organizations benifitting from VBFWM help transform lives and make incredible strides in their perspective areas thanks to funds raised from VBFWM events. www.VBFWM.com
Why should you sponsor?
While food and wine is front and center at VBFWM the charities benefiting are truly at the heart of the event. Our culinary gathering benefits six wonderful nonprofit organizations, The American Cancer Society, Source for the Poor and Homeless, Halo a Non Kill Animal Shelter, Indian River Lagoon, United Against Poverty and Hibiscus Children Center.
These charities represent a focus on cancer research, providing free meals, lifting families out of poverty, enriching lives of foster children, rescue of animals and preserving the ecosystem. To learn more about these charities and VBFWM please visit our website www.VBFWM.com.
Keeping us acutely aware of how important events of this caliber are to them and the community. The funds raised through VBFWM, will help maintain and also create new programs, expand research, support educational services, personal aide to many more who need it. Every dollar raised is important and will be stretched to its fullest potential.
You can truly make a real difference by being a VBFWM sponsor. www.VBFWM.com

Fé Domenech
THE EVENT FIRM INTERNATIONAL was founded by Fé Domenech in 2006 as a boutique full service event, design, production and floral company. They created and formed The Vero Beach Food Wine & Music Spree for 2018. Then in early 2011 TEFI expanded and opened Florals By Fé in Vero Beach Florida, focused as a full service florist, events and wedding boutique. Believing that a critical factor in today's events, florist designs and service industry was being overlooked. In only achieving short term relationships for volume. She believed be truly successful in these types of services long term it could not be based on volume but quality. TEFI was built on the total commitment to personal one on one Service, complete client satisfaction and more important giving back FBF has been created with the same foundation.
TEFI functions fto provide clients with everything they need. By being a one stop shop for all their event requirements, providing real with having these services in house. Then Florals By Fé focus being for the social consumer. The range of services assists in not only locating strategic event locations for clients, but negotiating with, suppliers, entertainers on behalf of clients and then making a reality the creative concept to a living vision.
THE EVENT FIRM INTERNATIONAL is considered a leader in the Luxury Events and Production Industry, proud of the total commitment not only to their clients but thier efforts in philanthropy. TEFI & FBF teams have effectively worked worldwide and have been of service to Fortune 100 companies, dignitaries, celebrities and both corporate and social planning companies for over fifteen years with proven success.
Due to this work ethic and clients satisfaction their customer base that has come to be exclusively by referrals. Clients such as Citigroup,UNIVISION, NASCAR, Emilio & Gloria Estefan, Novartis, MTV, HBO, BMG, Louis Vuitton, Sony, NCR, Heat, Tom Joyner and Shaq just to mention a few.
Contact the Organizer
Contact the Organizer