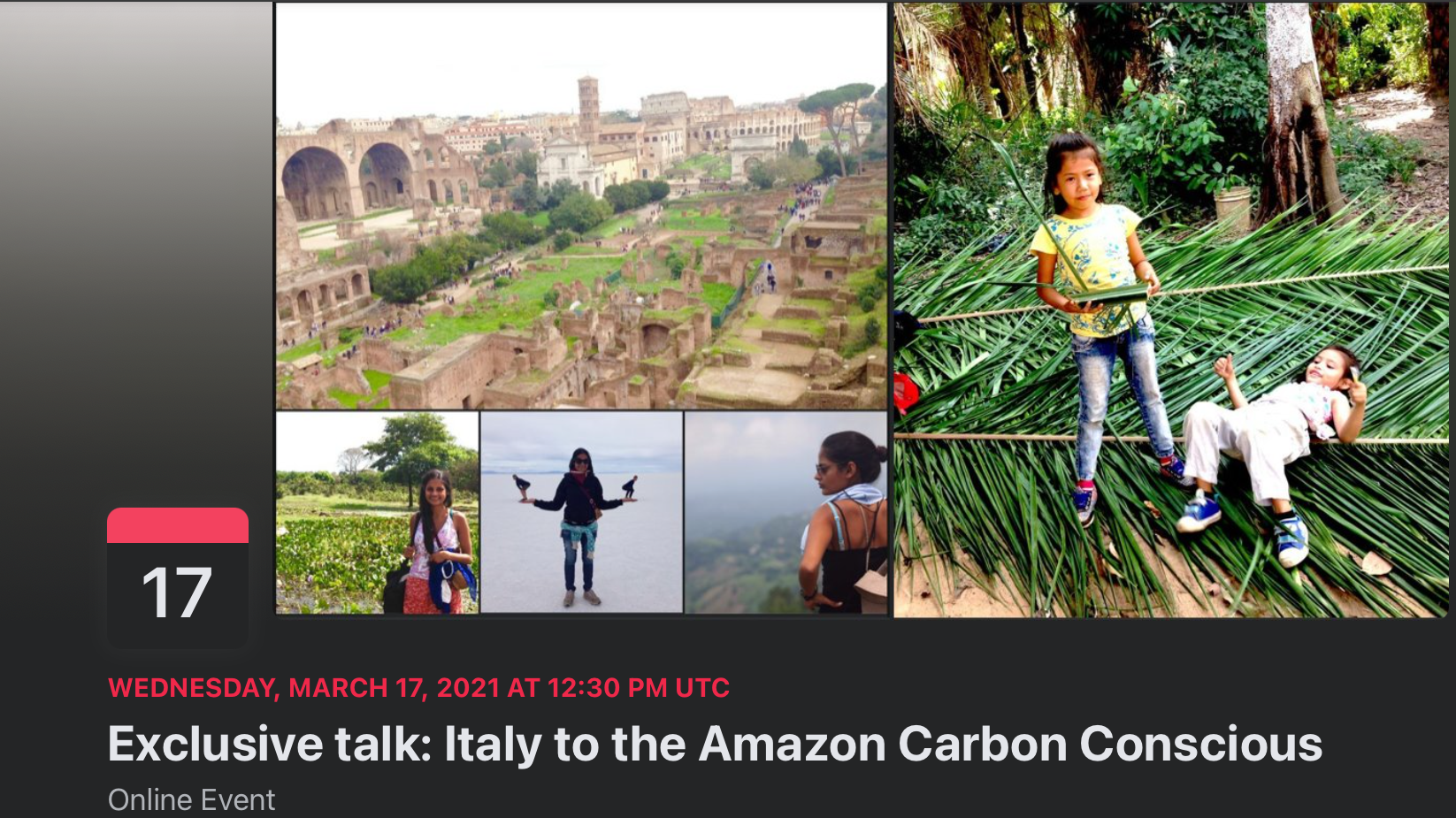 About the event
"The natural #world is fading, the evidence is all around… If we don't take action, the collapse of our civilization and the extinction of much of the natural world is on the horizon.(But) if we act now, we can yet put it right....." David Attenborough
The evidence of climate change and destruction to all life on earth is evident: the flooding in Honduras, the Philippines, United Kingdom.... wild fires in the Amazon, Unites Staes and Australia.... the melting of ice caps in the Antarctic...
From humans to polar bears to the little insects keeping it all going behind the scene, life on earth is being affected in unprecedented ways and at an exponential speed.
It is easy to get overwhelmed by this, close your ears, pretend it is not happening... I too have felt like this but after a period of contemplation, I decided instead to investigate, experiment and explore what in my life was creating the biggest impact and how I could reduce that.
Embracing my power and personal responsibility.
I used my last trip from Italy to the Flavellas of Rio de Janeiro and finally the Brazilian Amazon as an experiment. Was it possible to offset my air contamination and still embrace my passions, teach others and also expand my own mind through personal experience in different cultures, environments and conditions.
I have been a speaker for tedx, united nations events, Greenpeace and Amnesty international. I have travelled 6 of the 7 continents in the world lived with tribal communities and experienced directly some of the impacts of climate emergency in some of the worlds most vulnerable communities.
This talk is an exclusive opportunity to take a virtual trip with me across Italy, Brazil and Bolivia as I experiment with this using a carbon footprint calculator. This will be followed by a q and a workshop where you will have the opportunity to explore your own life and how you too can balance you footprint whilst still doing the things that are meaningful to you.
The talk will be 40 minutes followed but a 30 - 40 minute q and a and workshop. It is open to everyone and will be interactive with photos so could be good kids and homeschooling too.
I would like to ask for a donation of £5 for the charity Care International to support refugees that have been affected by #climatechange. However, I would also like to make this event open to everyone regardless of your budget, so if you can not afford it please email me and I will find you a sponsor:
To reserve you place please email or buy ticket here:
https://www.eventbrite.co.uk/.../the-longest-journey...
*****@****.***.
whatsapp: +447787363737
You can make your donation here or directly to the website:
https://www.care-international.org/donate-now
https://www.facebook.com/donate/785971915342872/
Why should you sponsor?
Dear Sir/Madam,
I am a writer, speaker and explorer offering an exclusive talk on how we can reduce our individual and collective carbon footprint using a carbon footprint calculator.
I am regularly featured across international media and I wanted to contact you to see if you might be interested in sponsoring this online event? All proceeds will be going to support climate refugees so it would be a charitable sponsorship for Care International charity supporting refugees, the charity is international so most likely the charity donation can be deducted from your tax.
This would be a great opportunity for you to promote your brand as environmentally ethical which would have my personal endorsement across media and with the people that attend the event. I am only seeking partnership with brands who I believe meet the ethical requirements of the day for all of humanity and life on earth.
I have attached my biography with links to previous media coverage to this article and a link to the charity is below for your perusal along with more information on the event.
I would also like to invite you and your members of staff to attend the event.
I look forward to hearing from you about this.
Kind regards,
Rhinal
07787363737
*****@****.***

Rhinal Patel
Rhinal started traveling at the age of 24 when she set off on her first trip to Australia/New Zealand. One of her first media articles was about the plight of aboriginal people in the Northern Territory.
She also researched world news stories for BBC World News. Finally, she recently lived with a hunter/gatherer tribe before taking on the challenge to travel home with no money. Having experienced all colours of life and travel, she found that real exploration began the less she had and the more she learned, adopting an open heart and mind.
She has since been interviewed in uk national media such as BBC Radio 4 ('Saturday Live: Extraordinary stories and remarkable people'), as well as international media links found in blog: tinyurl.com/rhinal. She has spoken for International Women's Day, United Nations model conference and Tedx Talk. She is also a speaker for Amnesty International and Greenpeace and has her own charity. Her next big trip is walking the river ganges.
Contact the Organizer
Contact the Organizer