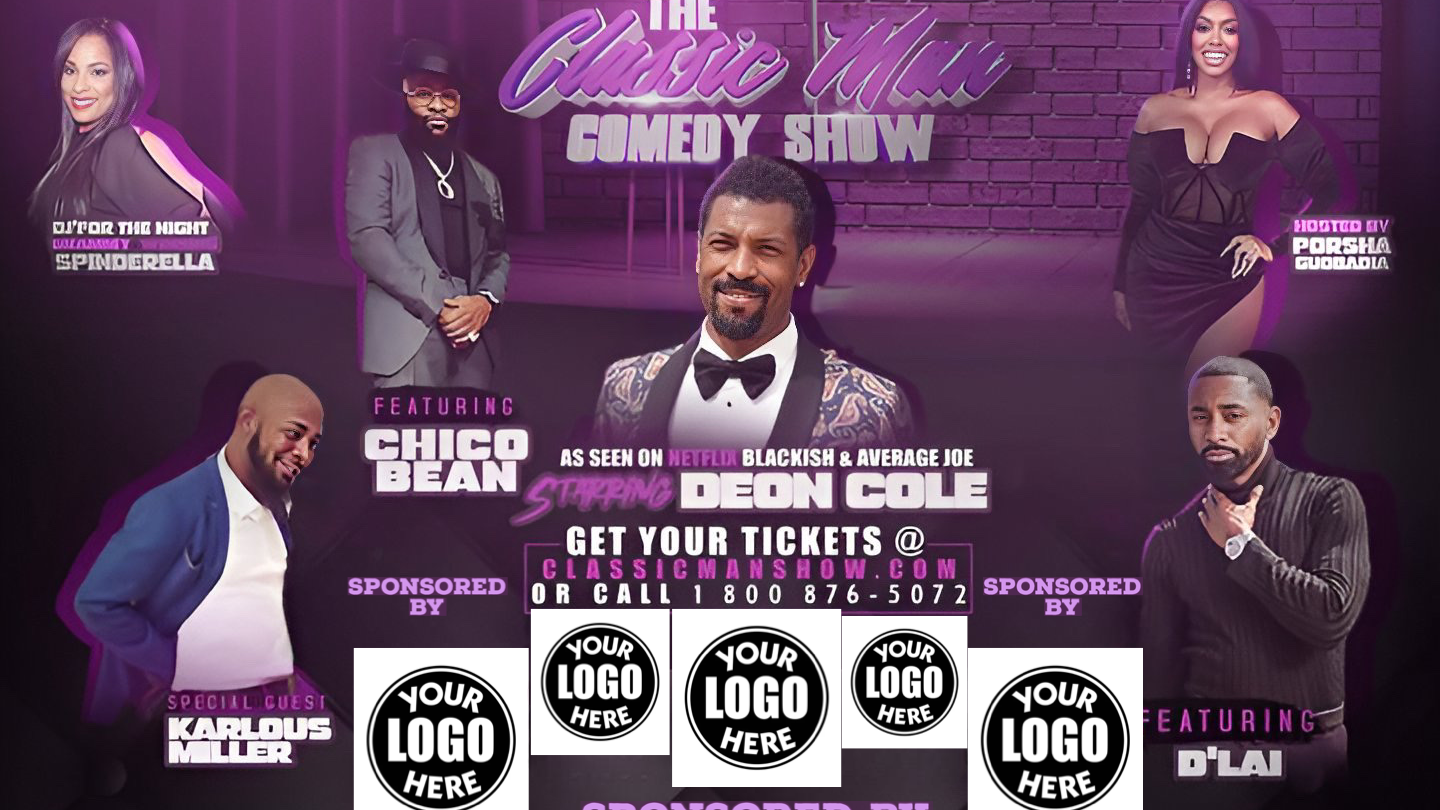 About the event
Join us for an unforgettable evening featuring four of the nation's most renowned stand-up comedians and actors, delivering a non-stop evening of laughter and amusement.
Our event will be an extraordinary entertainment experience that goes beyond your typical comedy show.
Get ready to be mesmerized by the incredible Deon Cole, a brilliant talent recognized for his outstanding performances on the acclaimed TV shows "Blackish" and "Average Joe." He's renowned for his two highly-praised Netflix specials "Charleen's Boy" and "Cole Hearted" that have left audiences in awe.
Leading this extraordinary event is none other than the charismatic VH-1 Reality TV Star, Porsha Guobadia, who adds her own charm and allure to the mix.
But wait, there's more! We're thrilled to have the dynamic and hilarious duo of Karlous Miller and Chico Bean. Renowned for their incredible standup performances across the country and their reoccurring roles on MTV's and Nick Cannon's top-rated show "Wild-N-Out."
Setting the musical tone for the event is DJ Spinderella, the talented DJ of the Grammy award-winning female group Salt-N-Pepa.
Also, introducing a renowned author and one of the country's hottest young comedians, D'Lai. You may know him from his stellar performances on HBO's All Def Comedy Jam, earning him high acclaim. This lineup guarantees an unforgettable and thrilling experience!
But the Classic Man Comedy Show is more than just an incredible entertainment event. We are excited about the opportunity to support a cause that directly impacts lives in East TX and surrounding areas.
Talent may be substituted based on unforeseen changes in the their availability. In the event of a cancellation, replacement comedians will be sought with similar talent and public stature. The show must go on!
Why should you sponsor?
In addition, by partnering with us as a sponsor, you'll gain access to a wide range of marketing opportunities. Harness the power of our extensive social media reach, radio promotions, TV advertising, online advertising, and grassroots marketing efforts to elevate the visibility and profitability of your brand in the vibrant East TX/Shreveport, LA Market.
Join us at the Classic Man Comedy Show and become part of an unforgettable evening of entertainment, philanthropy, and brand growth. Don't miss out on this exceptional opportunity to connect with our enthusiastic audience and make a lasting impact.

Regnald Taylor
One of our notable past events was the Black & White Comedy Show, which took place on November 9, 2019, at the Maude Cobb Auditorium in Longview, TX.
This event, organized by Stars Entertainment Group, saw an impressive attendance of 1,500 ticket holders hailing from various regions, including East Texas, North Texas, Oklahoma, and Louisiana. An impressive 50% of our ticket holders that attended our event were from the Shreveport, LA area.
Our website also experienced a substantial influx of traffic, with an average of 700-1,100 monthly visitors coming from different parts of the United States.
Moreover, tickets were successfully sold in 10 different cities across three states, showcasing the broad appeal and reach of our events. The social media campaign for the Black & White Comedy Show yielded exceptional results, garnering 800,000 impressions. Impressions represent the number of times our content was displayed to users across social media platforms.
Additionally, the campaign reached 500,000 people, indicating the total number of individuals who viewed our ads. The Classic Man Comedy Show will extend this reach to up to 2 million people!
These metrics demonstrate the significant exposure and engagement generated through our social media efforts.
Through successful past events like The Black & White Comedy Show, we have established a track record of attracting diverse audiences, driving website traffic, and executing effective social media campaigns.
As a result, we are well-equipped to deliver another impactful and successful event in collaboration with our valued sponsors.
Contact the Organizer
Contact the Organizer