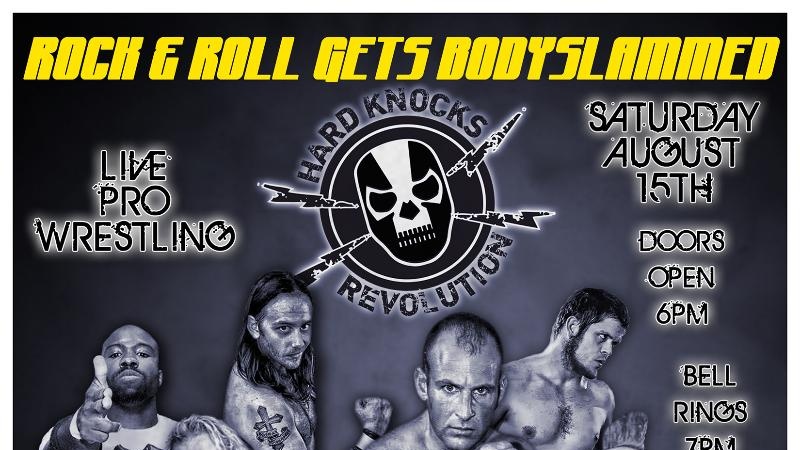 About the event
Wrestling makes Jackson, MS, its home again as Hard Knocks Revolution brings "Rock & Roll Gets Bodyslammed" to The Hideaway bar! This is the pilot episode for The Convergence - wrestling's first live interactive show broadcast over the internet! There are 4 spots left for The Convergence, and we have eight men fighting for their chance to be a part of history. Join us to see who makes the cut, and help raise funds for TEAAM Autism as well! Don't worry if you're not in town....take us with you as we broadcast online!
Teaming with the power of Wowza.com streaming, Hard Knocks Revolution brings full tv production to your phone, tablet, smartTV, and more. This brings something revolutionary to how you watch, interact with, and experience entertainment. On a global level!
Using augmented reality through the Layar app, even our marketing is interactive. We're taking our fans to the sponsors, as well as making any sponsors part of the marketing experience. We don't need to make them change their packaging, we make that the marketing.
We are registered with the Writer's Guild of America (West) and have a fully realized season to come as we make fans part of the experience. If you're at the show filming with your phone, let us know where you're streaming it to and we'll bring that in as a fan cam and give drink specials or give away prizes.
Revolution shows change. Change is inevitable, those that create it aren't. The Revolution is coming. The question isn't are your ready, it's are you going to be a part of it.

Why should you sponsor?

Darrell Troth
Contact the Organizer
Contact the Organizer