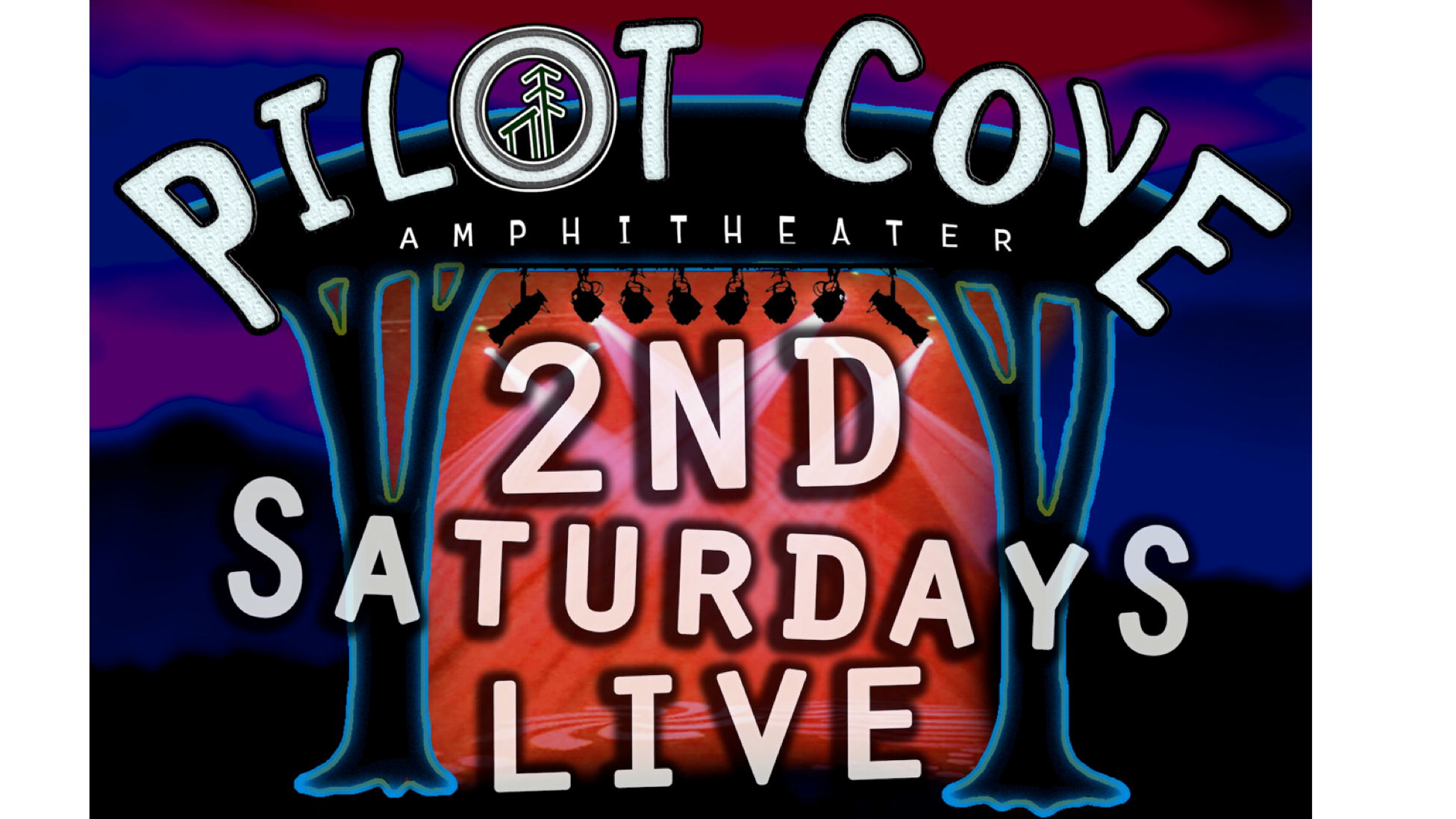 About the event
Second Saturdays Live Concert Series kicks off at Pilot Cove Amphitheater in Brevard, NC on May 9, 2020! This homegrown concert series consists of 5 concerts, each themed and taking place on the second Saturday of every month from May through September, 2020. This season, we will present 15 incredible acts, 3 at each show. Each act brings their own brand of raw power to the beautiful 300 seat Pilot Cove Amphitheater!
Second Saturdays Live is at Pilot Cove Amphitheater on these dates:
May 9 | June 13 | July 11 | August 8 | September 12
The flow:
Our monthly fitness sponsor will present a short class from the stage at 6:30PM, just as the doors open, to get everyones blood flowing and vibes high! Local craft beer and food vendors will be on site to offer tasty fare, and local craft merchants will be set up as well. The show will kick off at 7:30PM with an opening act, then the NC Songsmith set from 8:15-8:45PM, and then the headliner blows your mind at 9PM!
May 9 - Women Who Rock
Second Saturdays Live kicks off on May 9th, the day before Mother's Day and will be focused on women in music, namely WOMEN WHO ROCK! This concert will feature regional songwriter and NC Songsmith Ashley Heath, Durham-based powerhouse The Emily Musolino Band, and Florida's Comeback Alice will be taking it home! Talk about a fabulous lineup! Here's to the women who rock in your life!
June 13 - Cabaret Boogie
The Cabaret Boogie will be a theatrical, dancing exclamation of all things cosmic and otherworldly. Crystal Bright and The Silver Hands usher us into a land of imagination and dark romance. Our other acts for this event are top secret, but the suspense won't kill ya!
July 11 - Grateful Dead meets Radiohead
Crisscrossing genres can sometimes land you the best of pairings! Grateful Dead Meets RadioHead is just that! Get down to your favorite Graterful Dead tunes and end the night rocking out to all your favorite RadioHead songs.
August 8 - Reggae/ Ska/ Dance Hall
If you can't make your way to the islands this summer, this show is for you! Reggae and Ska acts from all over the US team up for a non-stop dance party. You won't even miss the beach!
September 12 - Funk Throwdown Finale
Nothing says Finale like a Funk Throwdown! Bringing in the funkiest acts from the region, we will make sure you don't want to rest until the throwdown is complete! This show features hot horn sections, high-energy percussion, gnarly bass licks, and soul stirring vocals. We know how to show up and show out for the end our first season!
Why should you sponsor?
Second Saturdays Live is a great opportunity for sponsors to reach members of Brevard and the surrounding communities. Live music events draw from a wide demographic, and we have tailored each event to draw in new people. Since these are family friendly events, we will have attendees in all age groups and varied economic backgrounds, from college students attending the local university to fun-loving retirees.
Pilot Cove Amphitheater is a magical place, and you want to be a part of the memories people make there! These attendees will be interested in high quality live music, craft beer, good food from local vendors, outdoor activites, family-friendly businesses and activities, and of course, beautiful scenery. In return for their investment in our concert series, sponsors receive marketing and interactive exposure to our concert patrons for the season.
Bands will be sharing content from our promotions, and that is another great means of brand introduction to new audiences. We have taken a lot of time and intention in developing our sponsorship packages, focusing on what means will be best implemented in the community where we are working: Brevard/Transylvania County and Hendersonville/Henderson County.
Your sponsorship not only assists our efforts, it also nourishes the community.

Christina Chandler
EchoMix Entertainment partners, Christina Chandler and Brian Hill have a combined 50+ years of experience in the live music industry! From booking solo singer songwriters and instrumentalists to buying headlining talent for major corporate events, EchoMix Entertainment has become a regional go-to for live music booking and event production. Their commitment to quality programming and artist support has earned them a solid reputation for being innovative, diligent, and trustworthy. The NC Songsmiths Tour Series they developed in Western North Carolina in 2018 has contributed over $70,000 to songwriters in North Carolina and over 500 individual performances at venues across the state. Personal successes for Christina include booking over 25 acts for The Charlotte Marathon in 2015 & 2016, and working with Resource Entertainment Group out of Memphis on bookings for Elton John, The Blues Brothers, Dr. John, and beyond! Brian has booked and produced shows on the Ska and Reggae circuit and played shows with his Ska/Reggae band Regatta 69 all over the world. He started EchoMix Entertainment in 2012, and has booked shows with famed acts such as King Django, Dr. Ring Ding, Konrad Kuechenmeister, NY Ska Jazz Ensemble, and Jo Lawry. Their passion for quality live music experiences, expertise in event production and execution, and network of incredible talent makes them a powerful team!
Contact the Organizer
Contact the Organizer