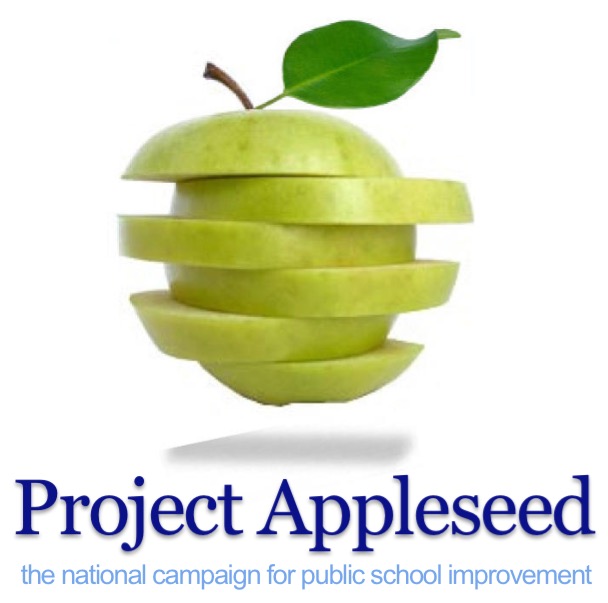 About the event
Public School Volunteer Week provides a yearly opportunity for schools to engage, honor and highlight the powerful contributions parents grandparents and caregivers provide at school and home to support student success. Public School Volunteer Week has been held on the third full week in April since 1997.
Why should you sponsor?
Project Appleseed seeks to work with leading corporations, foundations and other nonprofit organizations on cause-marketing programs. Together we seek to achieve our partners' marketing objectives through a connection with parents. Whenever possible, Project Appleseed should work directly with the partner rather than through third party intermediaries. When intermediaries are the original point of contact, Project Appleseed should obtain direct contact with the primary partners at the earliest possible time.
Strong mission: Project Appleseed is a nonprofit resource, advocate and voice for America's 65 million public school parents.
Significant impact: Over ten million family members observe our celebrations - Public School Volunteer Week & National Parental Involvement Day - at over 18,000 schools in all 50 states each school year. We estimate that nearly every public school in America has recognized or celebrated these grassroots occasions, at least once, over the last two decades. Each year parents and family members, state departments of education, nonprofits, businesses and thousands of school districts are involved.
Partnership philosophy: We forge strategic, long-term, mutually beneficial partnerships that deliver clear value and business benefits under truly tailored partnership programs.
Strong brand proposition: Project Appleseed's brand is trusted and recognized by parents and educators and provides a platform for leading companies to engage consumers in an authentic, breakthrough way.
Active digital reach:
• Our online newsletter Appleseed Today reaches 115,000 principals, superintendents and parent leaders via email.
• We have extensive digital reach with 10K average monthly visitors to projectappleseed.org and 1,500 parent leaders and organizations on our social media platforms.
• Each day our website is accessed by a majority of the 100 largest school districts in the United States.
• We are a top search result in Google & Bing for "parental involvement in public schools".
• Today there are currently over 10,000 active links to our signature events in the Google search engine.

Kevin Walker
Project Appleseed has been picked as a Top 10 education organization in America by both Teacher & Parenting magazines. We are a genuine grassroots education organization that lacks an office in Manhattan. We don't have a steady flow of cash from the Gates or the Waltons. We don't have a slick corporate website and don't boast of 100s of chapter offices. What we have is an energy that derives from authenticity. And that has staying power. More than 25 years of staying power - and counting.
Project Appleseed is an effective advocacy organization that engages public schools and families by mobilizing millions of volunteers, building responsibility and promoting accountability — both at school and at home. With a focus on low-income and under-served families and schools, Project Appleseed works to improve schools, build public awareness, enable public engagement, advance policy positions and advise elected officials and other decision-makers on best practices for creating optimal educational environments. The effect of our efforts are clear: academic achievement rises in tandem with parental involvement.
Contact the Organizer
Contact the Organizer