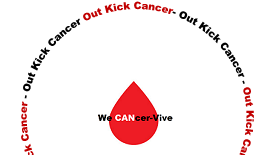 About the event
Our Out Kick Cancer event is supporting the Man & Woman of the Year (MWOY) fundraising campaign. This Campaign is a fun and spirited 10 week competition raising money for the Leukemia Lymphoma Society (LLS). The MWOY candidates help focuses on raising funds, awareness and advocacy for those battling blood cancers. The Man and Woman who raise the most funds in the entire U.S will be recognized as the national Man and Woman of the year.
The Out Kick Cancer event is helping raise money for a candidate running in Rhode Island. She is dedicated to help spread the knowledge and support of LLS due to her connection to the loss she has had in her family of Leukemia. The Mission of LLS is to "cure Leukemia, Lymphoma, Hodgkin's disease and Myeloma, and improve the quality of life of patents and their families."
Why should you sponsor?
By sponsoring our event you will be represented through signs, ads, flyers, and if you sponsor at least $1000 dollars your company will be listed as a Champion of Hope in the program book at the main and final event of, The Man & Woman of the Year campaign. All this will not only help increase the visibility for your businesses, but help you reach out to both your target audiences, as well as a variety of diverse potential customers, which will increase your business to grow. The people supporting and attending these local events know the importance of support and helping others when in need. Our event will have a range of people from police departments, business men and women, families, teachers, etc. Everyone attending our event has been affected in some way by cancer and to see that your company cares to support a local event for a good cause helps potential customers form positive opinions about your business.
Community involvement also sets you apart from larger brands. People have more incentive to support your business if you're invested in the local community. You can find out what matters to customers, and pick causes that align with their values to boost loyalty. Forming an emotional connection is half the battle of building brand loyalty. Strengthening your business image is one of the most valuable benefits of event sponsorship. Customers love brands that care about spreading positive messages and helping the community. Linking your business to a worthy cause such as the Out Kick Cancer fundraising campaign, can draw lasting support and media attention.
There are many benefits to help sponsor our event but the most important benefit is the feeling of satisfaction knowing that you are doing something selfless and great to help families and patients who are battling cancer in hopes of creating opportunities of survival.
Mariluz Martinez
I am the event coordinator of the Out Kick Cancer event. I created this event to help support the Man & Woman of the Year (MWOY) raise money for the Leukemia and Lymphoma Society (LLS). I am the sister of a candidate who is running for Woman of the Year in Rhode Island, who will also hopefully win National Woman of the Year. Both my sister and I have an incredible amount of passion for the MWOY campaign which supports LLS. We lost our mother and grandmother to Leukemia. The loss of our mother has made a huge impact in our lives, she was our best friend. So to help my sister with such an amazing campaign, whose mission is finding a cure for blood cancer, is an honor. I hope that I can continue to host this event for years to come to help raise money for LLS and out kick cancer!
Contact the Organizer
Contact the Organizer