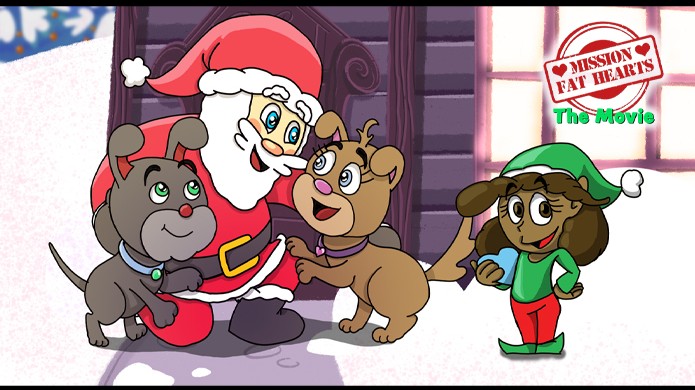 About the event
This sponsorship proposal is for a heartwarming animated film about spreading kindness. Created by Rebecca Yee, founder, and CEO of The Adventures of Pookie LLC, Mission Fat Hearts was created to teach children the importance of being kind to others. The top-secret mission folder gave kids a list of random acts of kindness to be completed through December leading up to Christmas. The book became so popular, we decided to turn it into an animated movie to reach more people.
Movie Synopsis:
Santa is discouraged about seeing so many names on the naughty list. He devises a plan and sends his newest elf, Kisa, to test his plan. She recruits some very special pups, Pookie & Thor, to help her give top-secret missions of kindness to kids. The mission: Help Santa spread more love & joy during the holiday season.
Why this Movie?
The inspiration to do Mission Fat Hearts was created after seeing how much the world needs kindness now more than ever.
Kids imitate what they see on TV and in movies. We want to create the Mission Fat Hearts animated movie to show kids how they can perform small acts of kindness, as well as the effect it can have on someone's life.
The Mission Fat Hearts animated movie will show kids that being kind CAN change the world.
Why should you sponsor?
Simply put, without our sponsors, our goal to give kids the tools they need to change the world would not be possible. The Mission Fat Hearts animated movie will show kids that being kind can change the world through a ripple effect of kindness.
Your sponsorship will enable us to finish creating the movie and continue our quest to create Mission Fat Hearts squads around the country. These squads will empower kids to make a meaningful change in their communities and eventually the world.

Rebecca Yee-Peters
Rebecca graduated from Malone College in 2008 with a Bachelor's degree in Youth Ministry. She started writing & illustrating in 2013, about her dog Pookie, when she wanted a fun and wholesome story for her nieces and nephews, some of whomwere learning to read. She plans to keep up her series and write others. Along with this venture, she wanted to make her Adventures of Pookie series into a cartoon. So in 2015, she started attending the Art Institute of Pittsburgh and 16 months later, she was certified in 2D Animation.
Along with The Adventures of Pookie children's book series, she is a Lifestyle blogger at The Glamping Housewife and author of the personal development book The Creative Minds Guide to Success. She travels full time in a 5th wheel RV with her husband Eric, and two dogs, Pookie & Thor, for his job as a Journeyman Lineman and writes about their adventures along the way.
In January of 2019, she started a publishing and entertainment company, The Adventures of Pookie LLC. The goal of The Adventures of Pookie LLC is to encourage children to pursue their love of art and nurture it, as well as offer wholesome entertainment for children.
Contact the Organizer
Contact the Organizer