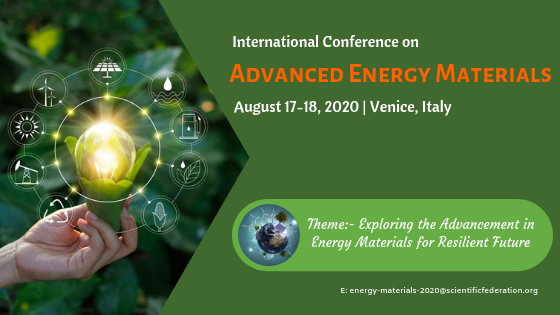 About the event
This meeting is a part of a series of conferences organized by the Scientific Federation. This Meeting will be a great occasion for discussions of previous, present, and future research on "Energy Materials". It will provide an exciting scientific program, which will cover all aspects from the basics to their applications. It will be a great forum for students, postdoctoral fellows and established scientists from different countries to exchange ideas, and to update their knowledge. It will be an excellent occasion to meet researchers from across the globe, widen professional contact and create new opportunities, including establishing new collaborations.
Why should you sponsor?
As we organize this conference to encourage young Researchers, Students, Individual researchers, and talented Scientists. Many prominent speakers from across the world have confirmed their participation. As many students and individual researchers from Energy Materials are not able to participate in our event due to lack of funding, even though they are very interested to share their research at our conference.
In this time, we've graduated with a minimum of 51-100 participants who have gone on to become a peer in Energy Materials. But, we wouldn't have been able to support those participants in registrations without sponsors like you.
As a show of gratitude, we would display a banner with your company name and suggested names on it at our conference. Apart from that many, more benefits associated with your sponsorship program will be discussed further.
Exhibitor Package €2700
Benefits
2 Complimentary event registrations
Listing on the meeting website
Logo recognition on meeting material
Logo printed on the general session banner
Acknowledgment in the inaugural address
Advertisement on the printed final program
Opportunity to deliver a presentation
One exhibition booth/table (Booth size 3X3 Sqm)
We also request you to join our conference and present an Oral talk about your Organization.

Energy Materials
Scientific Federation, is expert-driven and is initiated to organize and facilitate proficient and international scientific conferences worldwide with associating the world-class researchers, which has organized 200 plus Conferences.
Contact the Organizer
Contact the Organizer