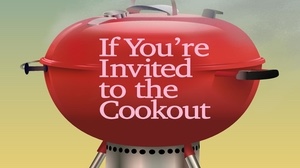 About the event
If You're Invited to the Cook Out is a full-length stage play. The story follows Ally Smith, a young African American woman and a recent graduate of Yale recent returns home to introduce her family to her fiancé. The fiancé, Ethan Wells is white and from a well to do family. His life is completely opposite of Ally's who's a native to the Southside of Chicago. Ally is embarrassed by her family's humble beginnings and rambunctious nature. Her family is filled colorful characters, a cousin who doesn't approve of interracial dating, a stern disapproving father who doesn't think anyone is good enough for his daughter and a loud, outspoken grandmother who constantly bickers with the neighbors next door. Will Ally and Ethan survive their first cookout, or will their differences prove to be too much to handle?
The play features two established comedians, Damon Williams and Just Nesh.
Damon can be heard weekly on the nationally syndicated Tom Joyner Morning Show doing the hilariously funny SERIOUSLY IGNORANT NEWS. Damon is on the staff of Chicago's SOUL 106.3 as the man on the street. Damon's numerous television appearances include 11 season BET's Comicview, including his own one-hour special. He's been featured on BET LIVE, Comedy Central's Premium Blend, The Joyner Sky show on TV ONE and HBO's P Diddy's Bad Boys of Comedy.
Jush Nesh is a rising star out of Chicago. Besides taking over the Chicago comedy scene, she has been featured on Comedy Central, Kevin Hart's The Next Level and HBO. Her unique brand of humor reaches nearly 100k followers on social media
Why should you sponsor?
Besides, the show in Chicago. This show will travel to three additional cities in the midwest. So you can choose to increase your visibility by being in four different markets.
The play is geared towards the African American community. African American adults in the U.S. were estimated to represent over $1 Trillion in total buying power, making them a powerful market force companies can't afford to overlook.
Inclusive companies find that feature support of the African American community boosts their standing among consumers across the board
64% of African Americans — versus 51 percent of Caucasians — spend more on products they perceive as "the best."

Arnetta Randall
Arnetta Randall is a graduate of the University of Illinois with a degree in creative writing. Her writing has been featured in the Black Youth Project, XO Necole, and Nia Magazine. She has written, directed and produced two short films. Her first film, Kismet has been accepted into multiple film festivals and has been featured in multiple publications including Afropunk, Loud magazine and Curve magazine. Her latest project, Hook Ups is a web-series distributed by Open TV
Contact the Organizer
Contact the Organizer