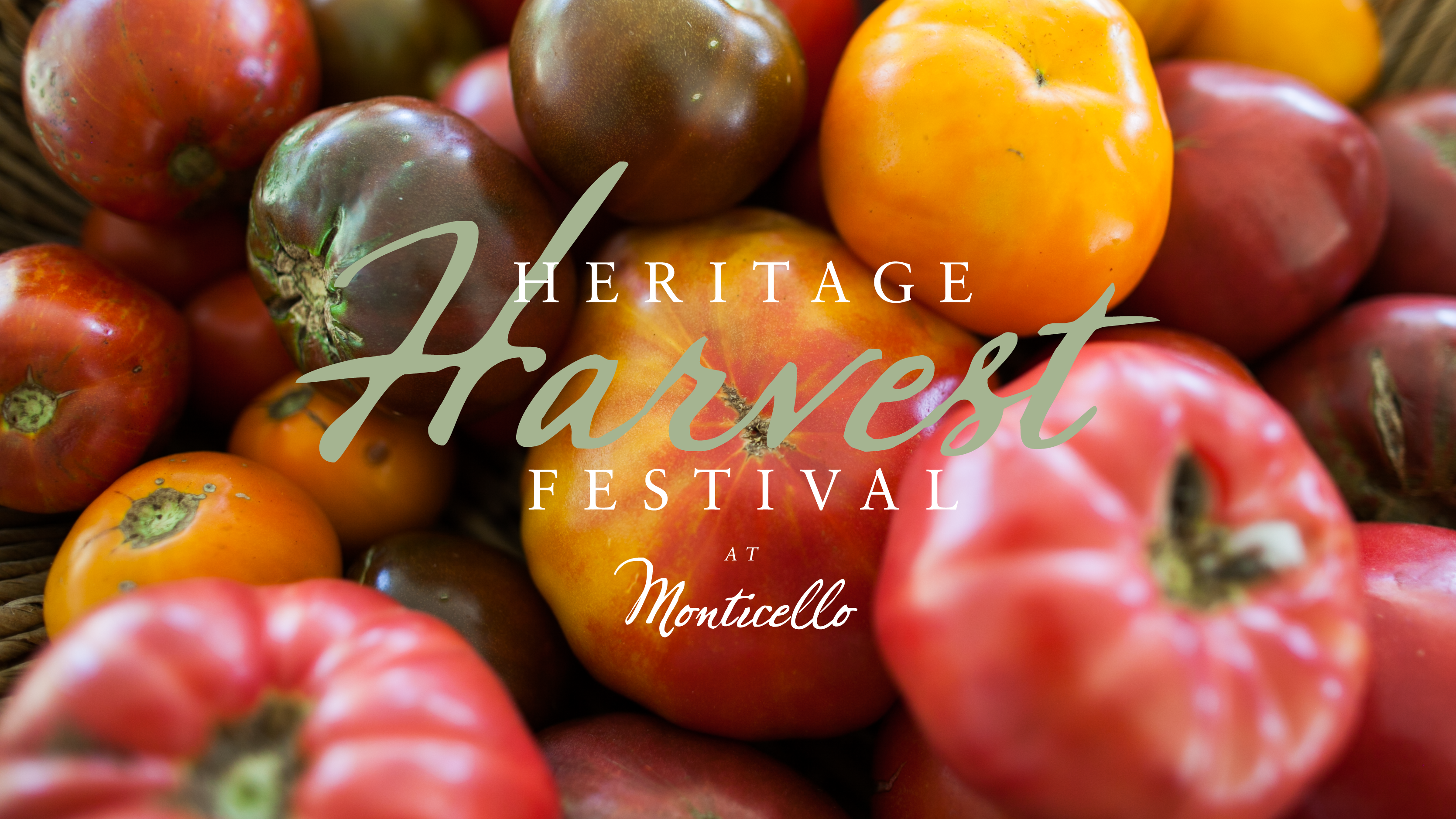 About the event
Thomas Jefferson championed vegetable cuisine, plant experimentation, and sustainable agriculture. The 11th Annual Heritage Harvest Festival, hosted by the Thomas Jefferson Foundation in partnership with Southern Exposure Seed Exchange, and Seed Savers Exchange celebrates Jefferson's legacy in a fun, affordable, family-oriented, educational event promoting gardening, sustainability, local food, and the preservation of heritage plants.
The 2017 Heritage Harvest Festival will be held on Saturday, September 09, at Monticello: on the historic West Lawn, in the vegetable garden, and in the LEED-certified Visitor Center. The venue provides a beautiful showcase for the restored gardens and features the wealth of Monticello's programs in not just gardening, but also natural history, foodways, and the roles of the entire plantation community.
Learn about organic gardening, seed-saving, cheese-making and southern recipes. Explore Jefferson's 1,000 foot long vegetable garden and ornamental mountaintop landscape. Taste hundreds of heirloom tomatoes, melons and peppers and savor local artisan jams, honey and chocolates. Learn new and period cooking techniques at chef demos, pet heritage breeds of animals with the kids, or revive your own kitchen garden at the 11th annual Old- Timey Seed Swap.
At the heart of the Heritage Harvest Festival are educational programs on seed-saving, botanical medicine, heirloom varieties, sustainable agriculture, organic gardening, edible landscaping, regional cookery, and other aspects of sustainable living. Interpretive tours of the restored Monticello garden, plus specialty tours on natural history and native plants, will take place every hour. Monticello's restored kitchen will come alive with cooking programs highlighting the little mountain's cross-cultural legacy.
The Heritage Harvest Festival is a grassroots, volunteer-oriented event with serious educational goals. The festival seeks to educate garden and culinary enthusiasts preserve heirloom plants and foodways, and celebrate Thomas Jefferson's agricultural and epicurean legacy. We invite you to join us for a meaningful and fun day celebrating sustainable living and the good things that come from the earth.
Why should you sponsor?
Your support enables us to host great speakers, hold innovative workshops, and raise awareness of local food — all while keeping the Festival affordable.

Alex Bryant
I am the coordinator for the Heritage Harvest Festival. I began as an intern to the Thomas Jefferson Foundation, and I fell in love with the Heritage Harvest Festival. I whole-heartedly support its humble goal of educating the public and preserving heirloom plants and foodways. I have worked most every role for the festival – set up, layout, retail, marketing, coordinating, recruiting presenters, managing chefs, and stewarding sponsors and VIPs. If you are interested at all in the festival, please do not hesitate to give me a call (434) 984-7576.
Contact the Organizer
Contact the Organizer