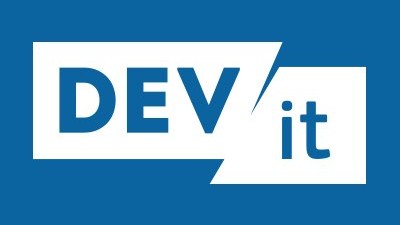 About the event
DEVit is the leading web developer conference in South East Europe.
Organized once per year, DEVit has become known for its top speaking talent, a
mixture of world-class and world-renowned developers, highly specialized technology
niches and developers who are the edge of the technology frontiers.
The attendees of the conference are the most highly trained and most motivated
web developers, representing the cream of the crop in talent South East Europe
has to offer. DEVit, now in its fourth year, has become the defacto meeting point
of all seasoned web development professionals.
Whether it's Frontend, UI/UX, Backend, DevOps or Mobile that you care about, join
us to learn about the most modern practices and techniques.
A truly 360° conference!
Why should you sponsor?
The DEVit conference will deliver the unmatched ability to gain access to the most
talented, self driven developers, designers and entrepreneurs, community and
thought leaders in Web Development today.
What you will gain with a sponsorship:
Talent acquisition & recruitment
You will have access to every level and specialty of web developer
talent, frontend, backend, UI/UX, product, DevOps, all the disciplines
and arts in one place at the same time. We also make sure to curate
and select the most promising students from Thessaloniki's 120,000
student pool.
Either from your booth or by hosting a workshop or even a talk in
DEVit conference you can share and spread your ideas and views to
the high tech community.
Increase brand awareness & recognition
Your brand and logo will be all over the conference signage, official
website, youtube videos, and social media.
Highly targeted marketing opportunities
You will meet with the decision makers, the people who are responsible
for proposing technological solutions to the problems large or
small corporations have.
Showing your support for the technological communities
DEVit is organised by the non-profit, local communities: SKGTech
(https://skgtech.io) and SHESHARP (http://www.shesharp.org).
The whole organization and operations are being performed during
our free time with a vision to promote, empower and educate the
technological talent, something everyone stands to benefit from. You
also need to be aware of the fact that it is because of your support
and our nonprofit nature that we are able to maintain such a low
price admission ticket for the conference, allowing even more developers
to attend and participate.
Media exposure & PR Announcements
DEVit being the prominent technological conference in the country
has easier access to mass and specialized media. Our marketing
campaign encompasses all local and international channels providing
you unprecedented exposure.
SKGTech & SHESHARP 5
Generate new partnerships, alliances & customers
DEVit is the meeting point for all high tech companies of the region,
the stakeholders, the players, the CTOs the CEOs, everyone will be
there in a positive, relaxed mood. The perfect scenery to contact new
Stratos Kourtzanidis
I am Stratos Kourtzanidis https://www.linkedin.com/in/skourtzanidis/
Software engineer, active member of Thesaloniki Tech Community, founder and organiser of Thessloniki .NET Meetup. Feel free to connect and ask me anything.
Contact the Organizer
Contact the Organizer