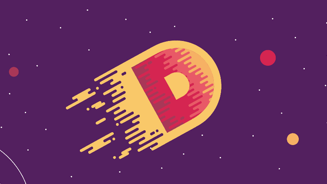 About the event
About the D Language
D is a systems programming language with C-like syntax and static typing. It combines efficiency, control and modeling power with safety and programmer productivity. D allows writing large code fragments without redundantly specifying types, similar to dynamic languages. On the other hand, static inference deduces types and other code properties, giving the best of both the static and the dynamic worlds. The best paradigm is to not impose something at the expense of others. D offers classic polymorphism, value semantics, functional style, generics, generative programming, contract programming and more – all harmoniously integrated. D enjoys growing enterprise usage ranging from start-ups to large scale companies.
Why should you sponsor?
About DConf
D is more than a language, it's a living community that takes pride in improving the world through code. Since 2013, D developers have been coming together on a yearly basis to share, learn and enrich themselves and their community as
a whole. Next year we're gearing up for the largest DConf to date in one of Europe's hottest tech hubs. Are you considering attending DConf 2017 in Berlin? The three-day conference and the added Hackathon will take place between 4-7 May 2017 at the Heimathafen theater and is organized by the D Language Foundation in collaboration Sociomantic Labs.

4 DAYS
packed with talks, panel discussions and a lot of community collaboration.
18 SPEAKERS
from all over the world specializing in a variety of different industries, from game development to medical engineering.
150+ ENTHUSIASTS
such as programmers, open-source evangelists, technology entrepreneurs, long-term community supporters and IT students.

More Sponsosring packages are available, please contact us for infos :)

Sociomantic Labs Learning & Development
The D Language Foundation
The D Language Foundation is a 501(c)(3) non-profit public charity devoted to advancing open source technology related to the D programming language.
History
The D programming language was started by Walter Bright, as a 'better C++' and has grown slowly, but steadily, for more than 15 years. Recent improvements to the D development process have accelerated development of the language and shown the need for a governing organization that overlooks and arranges the future development of the D programming language.
Current projects
The D Language Foundation:
holds and defends the copyright and other intellectual property rights for the D programming language.
provides resources for furthering the development and adoption of the D programming language.
awards scholarships to highly skilled students.
organizes the yearly DConf, the international annual conference of D Language developers and users.
pays for hardware costs (e.g. this website, dmd downloads, the D tour and more)
is an accepted Google Summer of Code organization and hosted four projects during the summer of 2016.
Committee
The officers of the D Language Foundation are:
Walter Bright, President
Tudor Andrei Cristian Alexandrescu, Vice President and Treasurer
Ali Çehreli, Secretary
How can I contribute?
There are many ways to help the D programming language to grow further and get involved.
If you don't have the time to work on the source code, you can also donate to the D Language Foundation.
Contact the Organizer
Contact the Organizer