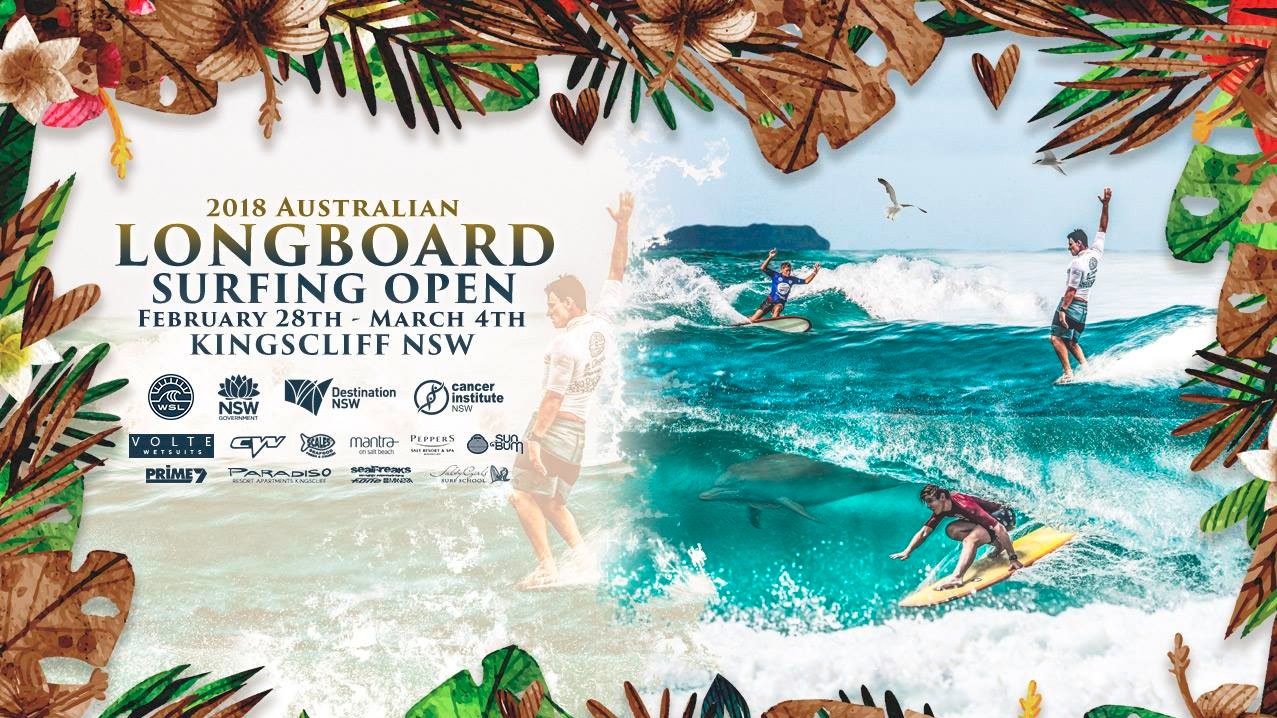 About the event
The Australian Longboard Surfing Open will be held from 28th February to 4th March 2018, in Kingscliff with some of the world's best longboard surfers in attendance. The Australian Open is one of Australasia's biggest and best surfing events.
We're building it bigger and better for 2018 and beyond, with:-
* a significant increase in local media attention, in print, on radio and television in the lead-up to the event, with our emphasis throughout on the brands of our key sponsors;
* year-round promotion of those businesses and organisations,
* a priority on supporter interaction through a multifaceted growth strategy, increasing the reach of sponsor promotion and direct contact with a considerable number of consumers across a range of appropriate market segments for your business..
Why should you sponsor?
Ours is an environmentally-responsible company, with focus on sustainable living, creating wellbeing and supporting those in need. This positive philosophy translates to action through the promotion in our event of Tweed Mental Health Services and the One Wave Foundation, with its Fluro/Floral Friday campaign, in support of the fight against depression in adults.
Your support would provide us with significant resources to devote to holding the event that brings joy to participants and spectators, and drives our ability to assist important causes through our continuing efforts outside of funding and running the contests themselves.
The key benefits to the community include:-
* an annual event in Kingscliff, drawing national and international attention and attendances;
* targeted growth of brands through our positive, active, integrated, regular promotion;
* gainful employment and experience for event staff with a reliable, seasoned promoter;
* better communication with the community about opportunities from which they can benefit; and
* a forum for calls-to-action for support for causes needing community attention and support.
Our main objective of the opportunity is to provide your business with an innovative outlet by which we can source increased need for your services, by informative exposure of them to our spectators and readership as part of our overall strategy for boosting interest in your business.

Sean McKeown
I have over 50 years of surfing experience and over 20 years of event management based around beach activities. I have a Diploma in Event Management.
Island Style Promotions is a world leader in staging events targeting those that are into longboard surfing and its lifestyle. We provide personalised packages to meet your needs from organising your next event, product promotion, conference or surf tour to providing World Champion surfers, authentic surfing props and memoribillia for promotions and advertisements.
Our event is sanctioned by the World Surf League and insured through Surfing Australia.
We have been well supported from various NSW Government departments.
Contact the Organizer
Contact the Organizer