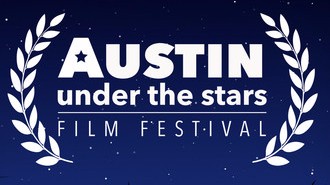 About the event
Austin's first outdoor film festival, Austin Under the Stars (AUTS) is an international film festival held at Lone Star Court, a retro-inspired boutique hotel.
AUTS aims to make film festivals fun again! Enjoy live music, drinks, socializing, and films - all nestled in the live music capital of the world.
Arrive early & experience a taste of the local music scene! An Austin-based band will set the tone with a movie-inspired playlist leading up to show time. Then, grab a cocktail or your favorite Texas beer and wait for the show to begin.
As the sun begins to set, take a seat under the stars and watch some of the best indie films compete!
Proceeds go towards "Autism Speaks"!
Awards & Prizes
$200 cash prize will be awarded to "Star Under the Stars" - The best reviewed film of the festival!
$150 cash prize will be awarded to "Wonder Woman" - The outstanding female filmmaker of the night (director, cinematographer, editor, etc)
Awards will be presented to the top-rated films following the screening. Stick around for a brief Q&A with each of the award winners – a perfect opportunity to talk about upcoming projects & broaden your network!
Awards will be presented to the following categories:
Best Feature
Best Narrative
Best Comedy
Best Horror
Best Music Video
Best Animation
Best Documentary
Best Student Feature
Best Student Short
Best Director
Best Female Performance
Best Male Performance
Best Cinematographer
Best Editor
Best Concept
"Wonder Woman" will be awarded to the to the outstanding female filmmaker of the night!
"Star Under the Stars" will go to the best-reviewed film of the festival!
Rules & Terms
No waivers or discounts!
All films must be in English or have English subtitles at the time submitted.
Films must be original works.
By submitting the material, the applicant hereby agrees to indemnify, hold harmless, and defend the festival & its employees from any liability, claims, and damages in connection with the submission and from any fees and expenses, including but not limited to reasonable attorneys' fees, that any of them may incur in connection therewith.
I/We understand that failure to adhere to the competition rules and regulations will result in disqualification and forfeiture of entry fee.
I/We agree to hold the Austin Under the Stars harmless from and defend them against all claims, demands, losses, damages, judgments, liabilities, and expenses (including attorney's fees) arising out of or in connection with any and all claims of third parties, whether or not groundless, based on any film submitted to the Festival.
Why should you sponsor?
Austin Under The Stars will be hosting it's first of many live screenings this October. The festival director, Ali Alkhafaji, currently hosts a monthly film festival at Butterfly Bar entitled "Movies Under The Stars". The monthly festival, held on the last Wednesday of each month, consistently brings in 100-150 people.
With 6 months of preparation, a larger venue, & a Saturday evening time slot, Austin Under The Stars promises to be an extremely successful turnout with several potential business opportunities. Not only is the large screen a perfect opportunity for brand exposure, but the networking during the VIP cocktail hour in addition to the 17 awards handed out at the event should be more than enough incentive to get involved. Austin Under The Stars will also be giving a portion of the proceeds to Autism Speaks - without taking away from the amazing cause, this is great PR for any business looking to broaden it's charitable portfolio.

Ali AlKhafaji
My name is Ali Alkhafaji. I am the Festival Director for Austin Under The Stars. I have a B.S. in Construction Engineering with a minor in Marketing from Bradley University. Post-grad I worked as a Project Engineer, Superintendent, & Project Manager for some of the top commercial contractors in the world (Clark, Turner, etc.) After moving across the country 8 times in 8 years, I realized that I could build a life for myself in Austin, Texas.
While unconventional on the surface, my organizatinal & management experience in Engineering have been instrumental in developing this international film festival. Utilizing my negotiation tequiniques, marketing background, & passion for film, I have crafted an event that will undoubtedly be the most unique showcase for local & international filmmakers alike. While taking full advantage of my local following from the monthly festivals, I have also been able to capitalize on my national network of friends & filmmakers. My festival has already garnered 100 submissions & counting. I am very diligent about making opportunities mutually beneficial. I hope to work together & build something special!
Contact the Organizer
Contact the Organizer