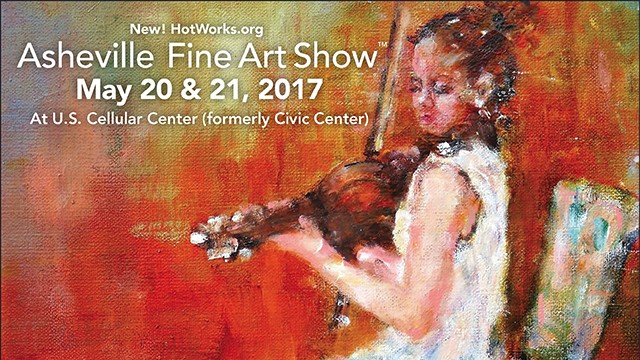 About the event
Hot Works' Asheville Fine Art Show™ brings quality fine art and fine craft to the area – many artists not seen in Asheville before. Institute for the Arts & Education is the 501c3 non-profit organization which focuses on visual arts, diversity, community enrichment and fostering art education among youth. This art show features up to 175 award-winning artists from around the world – juried by art professionals with 140+ years combined experience. All art is original and personally handmade by the artist who is at the show. There is something for everyone, in all price ranges.
This first-class top notch fine art and fine craft show event is held indoors at the U.S. Cellular Center – formerly the Civic Center – located in downtown Asheville. With the excitement of a cosmopolitan city and the ease of Southern charm, Asheville presents a unique atmosphere where big city style meets down-home appeal. The event is held 100% indoors, with amenities such as controlled "weather", ease of drive in/out, a friendly and non-union building, and a very popular facility in which the public is used to coming for events. This site attracts hundreds of thousands of people annually to events and celebrations.
Executive Producer Patty Narozny brings 30+ years of art show and event experience along with her national and standing reputation. Patty also personally knows 8,000 of the "art fair" artists.
Event hours are Saturday and Sunday, from 10am-5pm daily. We don't work at attracting 100,000 bodies to the event - instead, our mission is to bring 10,000 serious art shoppers with the means to purchase art and other items that they appreciate. While part of the experience, food and music are not permitted to intrude in the artist/patron relationship.
Sponsors whom are looking to excite the affluent are a perfect match for this event. Some of our most successful artists sell work that starts at $2,000 or more. Our partnership with sponsors is designed to get you foremost in the patron's mind. Whether you are looking for an on-site buying decision, or just establishing your presence for future consideration, the Asheville Fine Art Show™ is a perfect venue to highlight your high quality goods and services.
Why should you sponsor?
Hot Works' Asheville Fine Art Show, May 20 & 21, 2017 held indoors at the U.S. Cellular Center, formerly Civic Center. Hot Works' Asheville Fine Art Show is a high quality fine art & craft show and is juried by art professionals with 140+ combined years' experience with art shows and/or art education. The focus is quality, not quantity – with emphasis on originality, technique and execution. Award-winning artists from around the globe and top-notch Carolina artists will have art work available for purchase including sculpture, paintings, glass, clay, wood, fiber, photography, jewelry and more. All work is original and personally handmade by the artist who is present at the show. Our team continuously travels around the country and to Canada to recruit the best artists, of which this may be their only North Carolina event. In order to attract the higher quality artists, the judges award cash prizes.
Hot Works' has a national and standing reputation, with four of the top 100 juried art shows in the nation that take place in West Bloomfield, Michigan and Estero (near Naples/Fort Myers) and Boca Raton, Florida. Hot Works is the same company that also brought Charlotte, NC the Charlotte Fine Art Show from 2008 to 2013. The event will bring much positive national exposure and economic impact into Asheville and the surrounding communities.
Institute for the Arts & Education is the non-profit 501c3 organization which focuses on visual arts, diversity, community enrichment and fostering art education among youth. IA&E implements ways to enrich lives and strengthen the community through the power of arts. We help teach communities how art work is made, and further enhance the involvement of the community with our events. Besides all art being original (no buy/sell/manufactured "art), art demonstrations will take place so that our patrons may learn how some of the art work is made.
As part of our commitment to bring art education into the community, a Youth Art Competition for grades K-8 or ages 5-13 is integrated into the art show – a program that is unique in the nation to our shows. The Youth Art Competition encourages students in the community to enter his/her original and personally handmade art to be publicly displayed in the art show the entire weekend. There is $250 in Youth Art Awards as students are exposed to the rules and entrepreneurship opportunity of doing something they love for a living. It brings families to the event who would not otherwise attend and is a positive experience for those involved.
Enclosed please find information regarding general marketing/community enrichment opportunities. Both onsite marketing and/or community enrichment opportunities – in which no personnel is required by you – are available. We are happy to tailor a package based on your goals.
Our #1 goal at Hot Works is to make Hot Works' Asheville Fine Art Show a pleasant and profitable experience for all of our stakeholders – the city, the artists, the sponsors, the media, the patrons - at the same time bringing a wonderful event to the community. Hot Works and its non-profit 501.C.3 arm, Institute for the Arts and Education, are proud of the success and nationwide recognition we have achieved in our educational endeavors. We are all equal stakeholders in this event. With our proven method of teamwork, recruiting the best artists in the field, and last but not least, our unique brand of marketing, we at Hot Works hope to not just continue maintaining our current level of success, but to make it even better yet in the years to come.

Patty Narozny
As owner and operator of Hot Works™ fine art and fine crafts shows, Patty Narozny comes to the table with a unique set of qualifications and talent that enable her to judge and jury a high-end art show with an incredibly high level of confidence, skill, and ease. Armed with a B.S. in Corporate Finance from Detroit's Wayne State University (1986), what started as controller for Detroit's alternative art-heavy newsweekly, led her to a sales director position at Detroit's NBC affiliate WDIV TV 4, which, in turn, proved to be a pivotal point in Ms. Narozny's career.
It was at the NBC affiliate – a network of Post Newsweek Stations - where she learned the fine art of media negotiation, and which, to a large degree, accounts for the extensive media coverage her shows receive on the most limited of budgets. She will routinely run several hundred 30-second professionally-produced spots on the market's major networks the week of the show, followed by on-site multiple interviews, often by multiple TV stations, the Saturday morning of the event.
She maintains a positive edge on the buy/sell issues so prevalent in today's art fair world by regularly attending as many wholesale shows and art shows as possible, thereby keeping an eye on the forged and fake "art" coming into this country. No one covers the angles – and the buy/sell situation -- like Patty Narozny. The focus of Hot Works' events is originality, technique/execution and booth appearance – and the artist must be present at Hot Works' shows.
Perhaps her greatest contribution to the industry may very well be her non-profit arm, the Institute for the Arts & Education (IA&E), a 501(c)(3) charitable organization whose stated purpose is to "educate and promote fine arts and crafts among all artists and students, of all age groups and diversity, and to the general public." Her "Budding Artist" competitions, a major component of all Hot Works' events, are open to all young artists aged 5 to 13 or 9 to 19, depending on the event. Youth Art winners receive cash prizes, as well as Hot Works' well known, gorgeous, 24", seven-tail, ribbons – the same ribbons given the winners in the professional categories – as well as press coverage.
With the Budding Artists' separate awards ceremony on Sunday afternoon, to which all participating students and their families are invited to attend, Ms. Narozny again reconfirms her commitment to the arts is America, and to those she serves with her diligence, integrity, and her never-ending goal of doing whatever she can to facilitate the independent artists' ability to sell their art directly to the patron and collector at her shows. She is a one-of-a-kind in the world of art fairs.
Ms. Narozny and her husband of 20 years, Jim Sobczak, both avid gardeners, reside in White Lake, Michigan and Bradenton, FL.
Contact the Organizer
Contact the Organizer