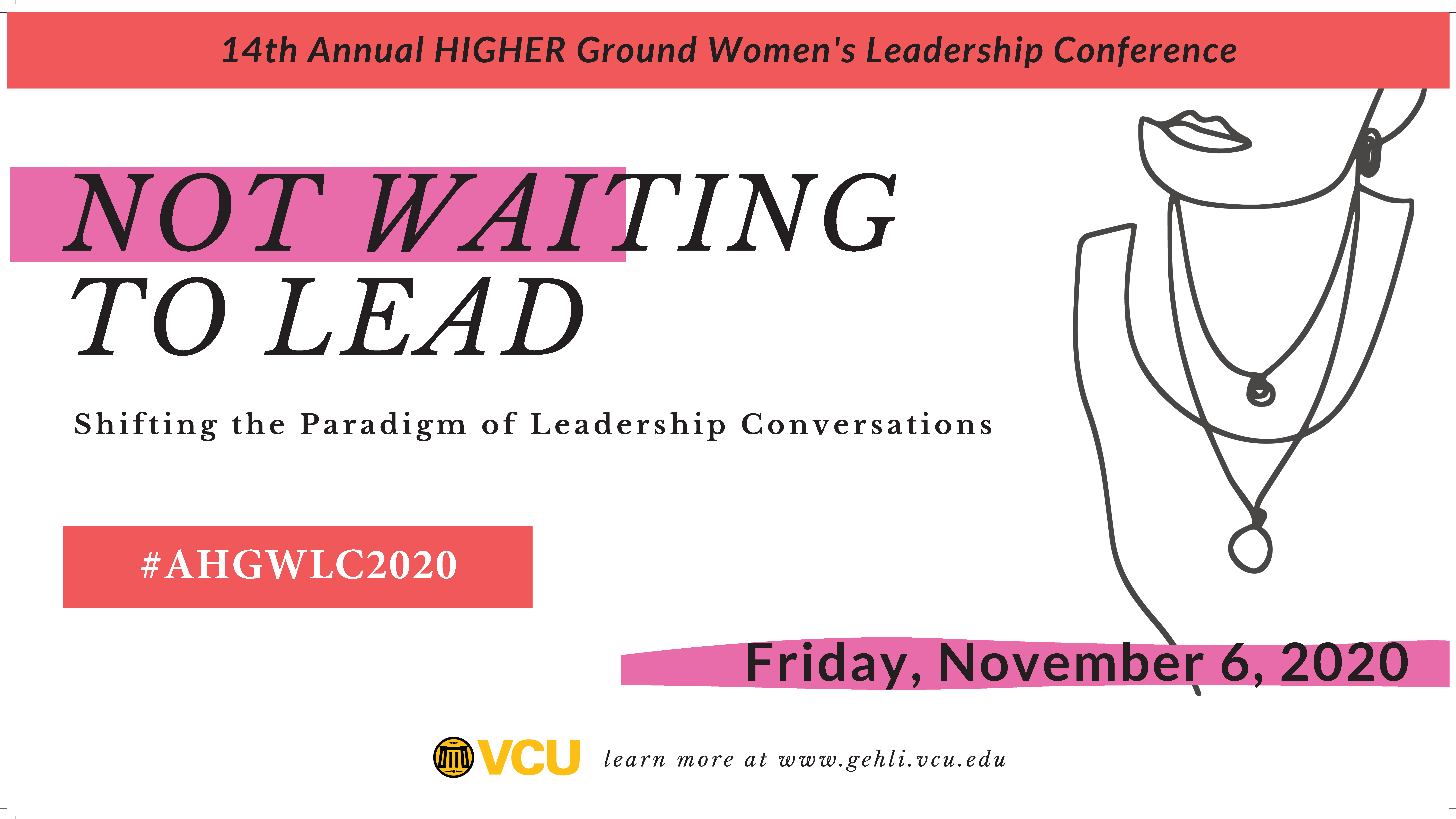 About the event
Not Waiting to Lead
Now, more than ever, women are making significant strides in varied capacities while navigating an ever-changing leadership landscape. Analysis of progress shows that women lead on multiple fronts. They hold more payroll jobs, earn more college degrees, and have made advances in formal leadership roles with representation among elected officials, employment as CEOs of corporations, and service as presidents of nonprofit organizations, reflecting a moment of zeitgeist. In spite of these successes, the reality remains that women experience obstacles in pursuit of the top position. Although female leaders are demonstrating a higher degree of competency, qualifications, and experience, they are still relegated to second place.
Women are shifting the paradigm of leadership conversations by stepping into formal and informal roles, regardless of recognition. They are challenging dominant expectations of what leadership progress and change should look like and shaking up systems of hierarchies that reinforce the status quo. Designed to create space to imagine new leadership models, The 14th Annual HIGHER Ground Women's Leadership Conference will: interrogate why deserved recognition for women's accomplishments is absent from prevailing leadership spaces; explore how to break free of leadership models that undervalue women; and embolden women to take the lead without needing to hold position, ask for permission, or wait for an invitation. Not Waiting to Lead will disrupt the narrative to catalyze the change that demands a future in 1st place.
Why should you sponsor?
Each year, our Annual HIGHER Ground Women's Leadership Conference brings together professional women to share ideas and explore leadership practices that influence their effectiveness at work, at home, and in their communities. Many return, year after year, for this sold-out event. We are looking forward to engaging with an expanded audience this year as we host the event virtually for the first time! Hosted by The VCU Grace E. Harris Leadership Institute, this annual women's leadership conference connects women who identify as change agents and see their actions as meaningful and transformational for themselves, their families, and their professional colleagues and employers. These women leaders attend our conference to recharge and reconnect—intellectually and emotionally—with each other around the hot topics facing business and social leaders.
Evidence is increasing that supporting women's leadership development is positive for the bottom line and for society, "Gender diversity has been shown to increase an organization's performance as well as improve morale, recruiting and external image."
That is why your support is so important to us. Do you need more reasons to become a conference sponsor? Here are a few:
Engagement: Your company's logo will appear in advertising, social media, flyers, websites, email marketing campaigns, and signage adding to increased brand awareness among women and their networks.
Awareness: With more than 300 women leaders, your business will be recognized as a supporter of women and their success.
Commitment: Giving back to successful women sends a message that you are dedicated to supporting them.
Your contribution will greatly help to enhance the leadership capacity of women. As a conference sponsor, you would be signaling your support of and confidence in these women, who make economic decisions and take strategic action for their homes, workplaces, and communities every day.
Key features of our conference include: speakers of regional and national prominence; workshops and seminars highlighting timely issues of importance to women; and networking opportunities for participants and speakers. Your contribution will greatly help to enhance the leadership experience of our conference attendees.

Elizabeth Marlowe
About the Institute
The Grace E. Harris Leadership Institute was established in May 1999 by the Board of Visitors at Virginia Commonwealth University in honor of Grace E. Harris, Ph.D., upon her retirement from the position of provost and vice president for academic affairs. Harris served the university for more than 40 years in the roles of faculty member, dean, vice provost, provost and vice president for academic affairs, and acting president, becoming the highest-ranking woman and highest-ranking African American in VCU's history. Following her retirement as provost, Harris served as a distinguished professor in the Center for Public Policy and led the Grace E. Harris Leadership Institute.
The Institute develops and implements programs based on principles of collaboration and partnership. Other unique features include its strong theoretical grounding in the concept of transformational leadership, its commitment to long-term relationships with clients and participants, and its focus on leadership in academic and community settings. The Institute also conducts research and disseminates knowledge on the best practices in leadership.
Mission
The Grace E. Harris Leadership Institute promotes the development of current and emerging leaders in academic institutions; other public, private and nonprofit organizations; and communities.

Consistent with the mission of VCU, the institute is committed to identifying and nurturing the next generation of leaders through leadership training and public policy research.
Vision
The Grace E. Harris Leadership Institute will be recognized throughout the region as the premier provider of leadership development programs for its:
Adherence to the principles of leadership exhibited by Grace E. Harris, Ph.D., based on collaboration and instituting leadership — envisioning a brighter future
Creating a learning environment, building collaborative partnerships and strengthening the commitment to results
Commitment to long-term relationships with clients and participants
Promotion of action-oriented transformational leadership
Contact the Organizer
Contact the Organizer