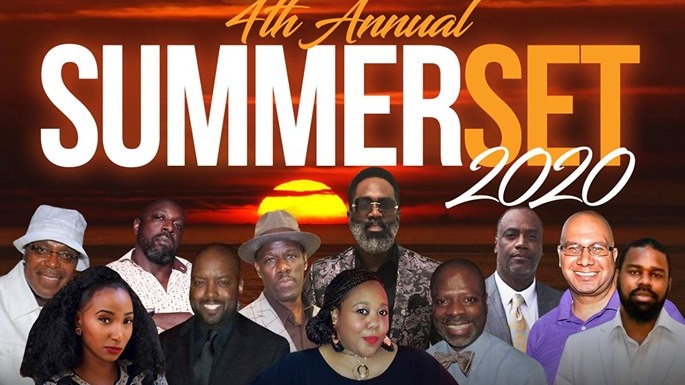 About the event
SDC SummerSET is a large-size dance event showcasing live music & the dance of Chicago Steppin over 4 days. The SDC SummerSET event brings over 1,000 attendees from across the US to celebrate the dance of Chicago Steppin, right here in San Diego. The event promises 7 parties in 4 Days! The event kicks off Thursday and runs through Sunday.
Venue Information
The Marriott La Jolla is the main hub/location for 95% of the events' activities. We have contracted a hotel buyout, therefore you will have access to ALL the attendees and be able to display regularly throughout the hotel. The hotel allows for signage in the ballrooms and all open common areas.
https://www.marriott.com/hotels/travel/sanlj-san-diego-marriott-la-jolla/?scid=bb1a189a- fec3-4d19-a255-54ba596febe2
What is Chicago Steppin?
Chicago Steppin, is an urban dance that originated in Chicago and continues to evolve while defining its unique style and culture within the context of mainstream Swing dance. Chicago Steppin has gained popularity, particularly in the urban neighborhoods of the US.
Demographics
Our community members are invested in the dance and the culture in which they are dedicated to traveling state to state to immerse themselves in the activities, the history, and the people on a monthly basis.
Why should you sponsor?
Community and Charitable Benefits
SDC Steppers supports the below by donating time, resources, money, and much more.
SDC Steppers is the proud founder of Melanin Mental & Physical Health is Ageless foundation. We help raise awareness and funding for increased national and global participation for a cause that goes undetected.
The Stephen Pierce Foundation, which is also the event host- is a nonprofit California corporation which is committed to improving and providing education opportunities for financially underprivileged youth.
The Origin Hip Hop Performing Arts Academy- is dedicated to supporting the cultural, social, creative, and educational values of hip hop. They educate and inspire youth to utilize the genre as a tool for learning.
Who is The Stephen Pierce Foundation?
The SP Foundation is a Non-Profit California Corporation which is committed to improving and providing education opportunities for financially underprivileged youth. The Stephen Pierce Foundation is dedicated to opening the door of opportunity for financially underprivileged youth by mentoring student athletes and providing scholarships to deserving students.
Sponsorship Summary
If you are seeking to introduce or reaffirm your corporate brand and offerings to the Chicago Steppin Community, the SummerSET offers several opportunities to meet your needs.
By sponsoring at the 4th Annual SummerSET, you will:
Increase engagement for your company/organization in a targeted market expected to be over 600 people in attendance

Gain opportunities to communicate your company presence on our website, in our e-newsletter and e-mails sent out to over 3,000 people in the Chicago Steppin Community.
In addition, your sponsor dollars will help in bringing awareness to Mental Health and impacting the youth of the Stephen Pierce Foundation. Also, your sponsorship amount is a tax write-off as we are a 501 c 3.

Tonya Danee'
Who is SDC Factory Steppers?
SDC stands for "San Diego County" and there are approximately 200 local Steppers. SDC was founded in October 2015 by Tonya Danee'. SDC Steppers are dedicated to spreading the dance, it's music, & culture. SDC is also a HUGE advocate for Mental & Physical Health Awareness specifically in Black & Brown Communities. We believe in keeping our community Mentally and Physically ACTIVE.
Contact the Organizer
Contact the Organizer