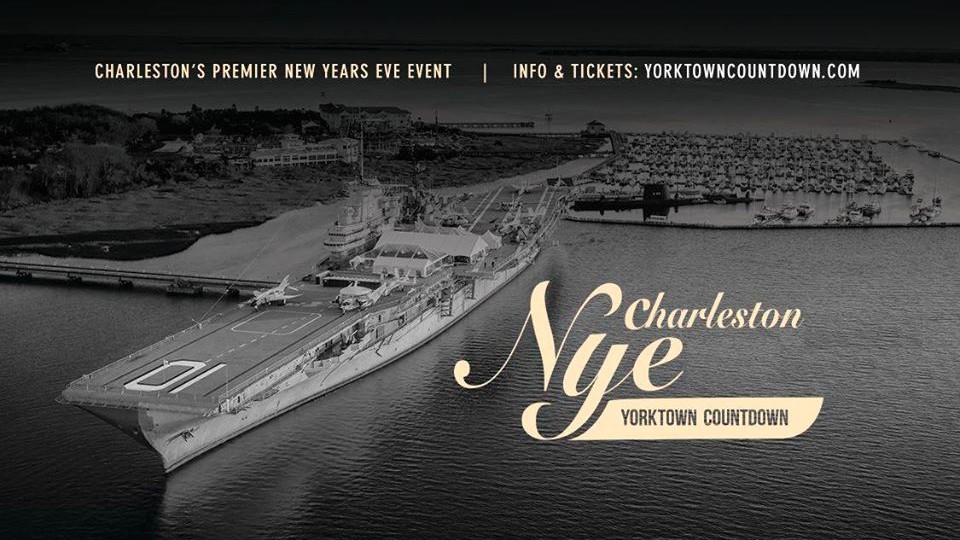 About the event
Come Aboard Charleston's Largest Annual New Year's Celebration!

Charleston's premier aircraft carrier ball drop party provides multiple different admission level options, great live music and magnificent views for the holiday festivities. From 9:00 PM until 1:00 AM, guests of this exclusive New Years Eve party will see live bands and dj's from all genres imaginable, including funk, rock, dance, and Top 40 Billboard hits.

First Aboard (General Admission) and Captain (VIP) tickets can be purchased at www.YorktownCountdown.com and offer several different amenities and access levels aboard the carrier. First Aboard tickets start at $125.00 per person and include an all-inclusive full service bar and access to the indoor airplane hangar as well as access the outdoor fantail area (on the same level). Captain tickets start at $160.00 per person and give patrons the complete Yorktown Countdown experience offering everything under First Aboard, plus access to the Yorktown's rooftop flight deck (which is tented and heated), a top-shelf all-inclusive bar, top-rated dj performances, large-screen ball drop at midnight, and much more.

For more information or to purchase tickets, visit www.YorktownCountdown.com.

PLEASE NOTE: This event is for patrons 21 years and older only.

---------
ABOUT THE YORKTOWN:
The USS Yorktown was built during World War II for the United States Navy and has participated in various wars, winning numerous battle stars and awards. In 1970 she was decommissioned and in 1975 became a museum ship at Patriots Point, Mount Pleasant, South Carolina. She is now a National Historic Landmark.

More information about the venue can be found at http://www.patriotspoint.org/explore_museum/uss_yorktown/
Why should you sponsor?
EVENT EXPOSURE
WEB
• CONSISTENT CONTENT CREATION THROUGH BLOG POSTS TO BOOST SEO
• 100,000+ VIEWS WILL BE ON OUR SITE FROM OCTOBER TO JANUARY
• INCLUSION OF WEB LINK TO YOUR WEBSITE
• POSTINGS ON ALL ONLINE LOCAL EVENT CALENDARS
• CALL-TO-ACTION PROMOTIONS ON SITE TO PROVIDE SHARED LEAD GENERATION
• PARTNERING WITH LOCAL LISTINGS AND EVENT PROMOTION SITES FOR INCREASED WEB VISITS.
SOCIAL MEDIA
• CREATE AND USE BRAND PAGES ON FACEBOOK, TWITTER, YOUTUBE AND INSTAGRAM TO MARKET AND INFORM TARGET AUDIENCE
• CREATE FACEBOOK EVENT PAGE; GENERATE 20,000+ INVITES THROUGH LOCAL NETWORKS
• CREATE CALENDAR SCHEDULED CAMPAIGN FOR IMPRESSIONS AND PER CLICK ADS
• SECURE A MINIMUM OF 5 OUTSIDE PROMOTER PAGES TO PROMOTE THE SHOW FROM AND MAKE ANNOUNCEMENTS, RUN CONTESTS, ETC
• 7K LIKES ON FB PAGE, 4.5/5 STARS WITH OVER 100 REVIEWS
MORE THAN 40,000 PEOPLE REACHED THROUGH EMAIL LIST SERVICE CAMPAIGNS
MORE THAN 100,000 PEOPLE WILL VISIT WWW.YORKTOWNCOUNTDOWN.COM
A LARGE MAJORITY OF OUR MARKET SEGEMENTATION WILL COMPRISE FOUR DIFFERENT TARGET AUDIENCE GROUPS OF ALL BACKGROUNDS:
25-34
42% OF ATTENDANCE POOL LAST YEAR
21-24
28% OF ATTENDANCE POOL LAST YEAR
35-44
19% OF ATTENDANCE POOL LAST YEAR
45-54
11% OF ATTENDANCE POOL LAST YEAR

Quinn Foster
Our team has become a premier source for live music events in the Southeastern United States by hosting numerous concerts and other festival-size events to include such artists, Pretty Lights, Girl Talk, LMFAO, Steve Aoki, Passion Pit, Wale, Big Boi of Outkast, Mstrkrft, Big Gigantic, Bone Thugs N Harmony, Steel Pulse, and many more. The mission consistency is simple: Bring quality events to each targeted city in the operating footprint for their first appearance in that particular market.

As a full-scale event production team, (outsourcing little to no work), all operations and logistics coordination, talent booking, marketing and promotions, and public relations are done in-house by the our team. Additionally, a large majority of promotions and advertising for events are done at the grass roots level, placing a very strong emphasis on traditional face-to-face marketing via street teams, (something not seen as often in today's social media dominated environment).

Since inception, The Yorktown Countdown Team has worked diligently to build a recognizable brand. We've built a significant fan base in a short amount of time by allowing fans the opportunity to experience a consistently high level of production, creative outdoor environments, and unique quality themes for each event experience. Finally, emphasis is always placed on supporting the local community in one way or another. --- Specific examples available upon request.
Contact the Organizer
Contact the Organizer