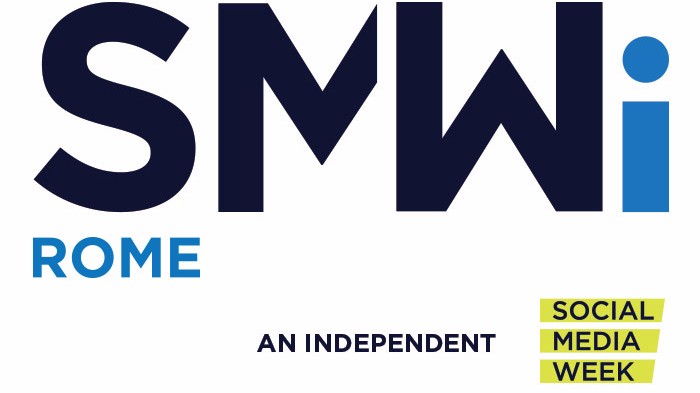 About the event
La Social Media Week è considerata tra i 10 eventi più innovativi e rivoluzionari al mondo e ha l'obiettivo di esplorare l'impatto sociale, culturale ed economico del web, del digital e dei social network.
Mission della Social Media Week è quella di aiutare le persone e le organizzazioni a connettersi attraverso la collaborazione e la condivisione di idee, esperienze, conoscenze ed informazioni; ogni anno la SMW coinvolge fisicamente nel mondo migliaia di persone in 26 città che rappresentano i 5 Continenti.
La Social Media Week di Roma è organizzata da Business International – Fiera Milano Media e si terrà dal 12 al 16 settembre 2016 presso la Casa del Cinema nel cuore di Villa Borghese.
Global theme di quest'anno: "THE INVISIBLE HAND: HIDDEN FORCES OF TECHNOLOGY".
Design, Behaviour, Data: cosa c'è dietro il Mobile e i Social Media? Il design non è solo estetica. Dal design passa anche la funzionalità: è un mondo dove la bellezza di un prodotto o di un servizio passa anche dalla sua user experience. La tecnologia modella anche i comportamenti delle persone e trasforma il nostro modo di interagire, consumare e comunicare. Nel nostro mondo sono disponibili ovunque e in grande quantità. Il nodo cruciale però è quello di classificarli e raffinarli in modo che siano comprensibili e utilizzabili.
Approfondimenti, workshop, seminari e keynote tratteranno queste e altre tematiche durante la settimana romana con importanti esperti italiani e internazionali. Molti momenti di networking (feste, aperitivi show cooking, anteprime di film, presentazioni di prodotti etc), dove i partecipanti del mondo B2B e B2C si incontreranno e confronteranno condividendo l'unica grande passione: LA TECNOLOGIA.
Why should you sponsor?
SMW partners with global brands, agencies, publishers, startups and platform companies to provide deep level engagement with the worlds most hyper-connected professionals.
We can provide a number of solutions for brands: Custom or Turn-Key Packages, including Content & Programming , Special Events, Branded Experiences and Campaigns.
Simona Clarizio
La Social Media Week Rome è organizzata da Business International – Fiera Milano Media
Dal 2011 Business International è una divisione di Fiera Milano Media, la media company del Gruppo Fiera Milano, il maggiore operatore fieristico italiano e uno tra i maggiori al mondo. Fiera Milano Media ha l'obiettivo di sviluppare sistemi di relazioni di business, utilizzando soluzioni informative, formative, di comunicazione, analisi di mercato e servizi di marketing, mediante un sistema multimediale che integra i mezzi tradizionali con i nuovi media.
Grazie all'esperienza consolidata nell'ideazione e realizzazione di eventi istituzionali e di management, Business International propone ogni anno oltre 150 corsi, seminari, convegni ed eventi rivolti ai top manager delle imprese italiane e multinazionali ed offre un ventaglio di soluzioni di networking per consolidare ed aggiornare il proprio sistema di relazioni professionali.
Contact the Organizer
Contact the Organizer